The Trump China Showdown Aligns with Reality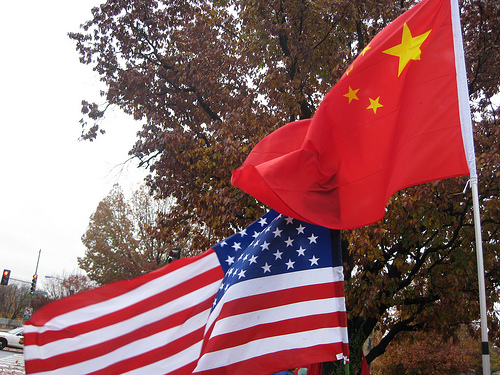 Trump received a phone call from the Taiwanese president. That was a violation of the One China policy, where in order to have diplomatic relations with China, one cannot have formal relations with China.
It is quite clear that Trump did this deliberately, it was not a gaffe, but planned.
China stated this was unacceptable, but was willing to pretend it was a gaffe.
Trump doubled down, accusing China of currency manipulation hurting the US (not true right now, but massive in the past), of not helping enough with North Korea, and of unacceptable behaviour in the South China Sea, where it has been building islands in order to seize control of the sea. He said he sees no reason to abide by One China if the US isn't getting something in return.
China's official response is that there will be no negotiations over anything without One China first.
A Chinese tabloid which is party associated said that if the US rescinded One China, China should invade Taiwan and arm American enemies.
And here we are.
Some basics. One power maximum; the potential power, of a modern state, is equal to its industrial power. Many nations may not have as much power as their industry allows, but this is the limiter.
China is now the world's largest manufacturer. It is the world's potentially most powerful nation. However, China's policy has been (quite sensibly) to gain the base first, then arm, for classic guns or butter reasons.
China did manipulate its currency to gain their manufacturing base, but the US and other Western elites were entirely complicit. China offered large profits to individuals and corporations, and they took that money. It's that simple.
China's ascension did not just hurt the US, it hurt Japan, who is probably America's most loyal ally (with the possible exception of the UK or Canada).
The manufacturing jobs performed in China would have been, in an alternate universe, done by the people who elected Trump in the Rust Belt.
Trump and his advisors do not believe that China and the US's interests are aligned; they see China as the rising power, who is rising at the expense of the US.
This is not insane. In fact, it is accurate. It is possible to imagine a world in which that rise led to shared prosperity, but no one is offering such policies and no one ever has.
Now, I want you to turn your attention to Russia. Yes, Russia.
See, the problem with NATO expansion, the overthrow of the Ukrainian government, the color revolutions, and sanctions against Russia, and all that stuff, is that it was forcing Russia into China's camp.
Russia does not want to be China's ally. Russians (at least in the past, not so sure any more) would far rather have allied with Europe and the US, but Europe and the US would simply not allow it. Running on crazed fumes from the Cold War, the US and Europe feared Russia, who is no longer a threat to take first sport, rather than China, who is.
Note that Trump has also expressed great skepticism about NATO. He puts it in money terms: "Why should we pay for Europe's defense?" But the end is the same, a NATO pointed at Russia doesn't make sense to Trump or his advisors.
And Trump's plans for the US involve a change in trade, anyway. People are scared of a trade war, and they should be.  Right now, what Trump is saying is at a meta-level which most people are too stupid to get: China is going to have to make a deal which helps American manufacturing, and everything is on the table in order to negotiate that. Everything.
Because Trump owes his election to the Rust Belt. He must deliver for them, in four years, or he will not be re-elected. His people, at least, will understand this. The election was too close. Trump must deliver.
And if China won't cut a deal? Fine, slap tariffs on them. America is still America; American consumers can still consume, and if it turns into a trade war, manufacturing jobs may well come back to the US.
This is high stakes poker. It could cause a serious war, or it could send the world economy into a serious tailspin.
It is also a realignment moment. The US is pivoting from treating Russia as a big enemy, to treating China as the big threat. This is, whether you like it or not, rational: China is the actual threat to American hegemony.
I assume Trump thinks there is a deal to be made–perhaps he even thinks there is a way to make the deal into a win/win. We will see.
But do not think this is pure insanity, or that it is not well thought out. This is based on a world model in better accord with actual world conditions–more so than the world model under which Obama was operating.
If the status quo continues, the US will be superseded by China. At that point, if China and Russia are allies, options for the US are extremely limited. China is the rising power, Russia is a great power, but won't a threat at the "super power" level again in the immediate future.
I will remind readers, once again, to stop assuming that Trump and his team are idiots just because they are doing things in new ways. I do not know if this pivot will work, and it could blow up spectacularly, but it is not prima facie stupid.
In fact, politicians who actually put the US's real interests first would have never allowed China into the WTO, and certainly would have gone out of their way to make sure that China's ascendence was a win/win, rather than a win/lose OR (if they were ruthless and slightly less smart) they would have done everything they could to prevent it. (I would not have favored that, to be clear).
Certainly, the US should have pivoted East years ago. This is a move which is made much more dangerous and problematic than it could have been by the fact that it wasn't done when it should have been, enabled by an absolutely deranged policy towards Russia, which schizophrenically treated Russia as if it were both powerless and a huge threat.*
The world is getting a lot more dangerous, fast. But it was going to anyway. This may not be the best China policy possible, but it at least acknowledges reality.
(*I understand the impulse to prevent Russia from turning back into a huge threat, but that could have been managed with far less difficulty and in ways that wouldn't have estranged Russia.)
---
The results of the work I do, like this article, are free, but food isn't, so if you value my work, please DONATE or SUBSCRIBE.