The Method to Trump and Bannon's "Madness"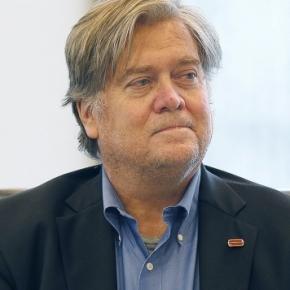 The "chaos" of the first two weeks mostly isn't chaos.
And the internal opposition is welcome to the new administration.
When you intend to have a revolutionary administration, you expect that the bureaucracy (the "Deep State") will object: They are members of the old regime, that's what they know and what they like.
So you want them to oppose you openly. You want them to stick their heads up and scream. You want them to block you in ways you can see.
You need to know who isn't going to "go along to get along" so you can get rid of them. Everyone opposing you is doing you a favor unless they have enough power or are operating in such large numbers that you can't get rid of them–OR if they are truly irreplaceable and doing something vital.
(Irreplaceable rarely means no one else can do what they do; it means everyone who can do what they do is so ideologically-bound to the previous ideology they won't work for you.)
But, overall, the idea is to conduct tests to see who's loyal (jumps to it with enthusiasm), who's biddable (will do it even if they don't like it), and who needs to go because they won't get with the plan.
I would do the same thing if I was running a radically left-wing administration. It is far better to fire them now or give them a powerless desk to fly, than have them keep their heads down and sabotage from within. Plus, high profile scalps are needed to intimidate others (see "Trump and the Art of the Strongman)."
People who really want to oppose Trump and who are in the administration have a stark choice. If they think that high-profile defiance will weaken him enough that he can't enact his agenda, or will be impeached (to be replaced by Pence, at least as bad in many ways), then so be it. But if they don't, it might be better to keep their heads down and sabotage from within.
Meanwhile, from where I sit, Bannon and Trump are still outplaying their opponents (which is not to minimize the good the Resistance is doing). Bannon has a plan, and he's executing it. He's thought long and hard about what to do and that gives him an advantage.
The current focus on Bannon might bear fruit. He and Kushner are the most competent people Trump listens to, and if a wedge can be driven between them; using Trump's ego against "President Bannon," perhaps Bannon's power can be reduced or he can even be gotten rid of. Kushner, as the son-in-law, is probably not someone who can be peeled off. Bannon might be.
Bottom line: If you are a civil service member who can expect to not be let go soon anyway, you should keep your head down and work from within. If you are going to be let go of anyway (as with the acting Attorney General who defied Trump), you might as well go out with a bang.
I'll discuss, soon, actual strategy for defeating Trump. General opposition is good, but the current strategy is neither focused nor brutal enough to bear results soon unless Trump blows himself up (not impossible, but not worth counting on–though one should do everything possible to encourage his instability, if one opposes him.)
I note, once again, that defeating Trump is nice, but absent a fix of the general trajectory of the United States, will only kick the ball down the field. Fortunately, there are ways to do both at the same time.
More later.
---
The results of the work I do, like this article, are free, but food isn't, so if you value my work, please DONATE or SUBSCRIBE.