Book Review: Bad Samaritans, by Ha-Joon Chang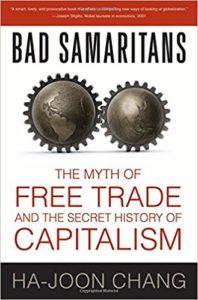 So, if you're going to read only one book about free trade and neoliberalism in relation to developing nations, this is the one to read.
The bottom line is this: The standard advice given by Western economists and experts about how to modernize or industrialize is wrong, actively harmful, and hurts countries.
Countries that do industrialize through mercantile policies (there are maybe four, including Russia), almost without exception, do not engage in free trade; they engage in managed trade behind protective barriers.
This was true of Japan, Korea, and China, among others. (China used iron-like control over currency as its barrier: Trump is wrong now, but not wrong for the key industrialization period.)
Moreover, growth in developing countries was better, generally speaking, under Bretton Woods, which allowed developing countries tariffs and so on. Once neoliberals took over and took it as their mission, in the IMF, World Bank, and elsewhere, to bust tariffs and subsidies and create "free markets," growth slowed in countries trying to develop using a non-mercantile policy.
In other words, again, if you did what Western experts wanted done, you got hurt bad.
The advice was truly horrendous, based on what should be an essentially niche matter — "comparative advantage."
Comparative advantage is garbage. Japan's original comparative advantage was silk production, not cars or advanced electronics. If they had chosen to emphasize their existing comparative advantage, rather than change their comparative advantages, they would be a third world country still.
Those countries which did follow this advice, were usually told that their comparative advantage was in cash crops or commodities. True enough.
Unfortunately, most developing countries have an advantage in cash crops or other commodities. When they all started taking that advice at the same time, it led to increases in supply, which collapsed prices.
To make most cash crops, you have to shove subsistence farmers off their land and set up plantations. The money from exports which was supposed to feed those people didn't show up, and governments were required to stay the course, going further into debt, rather than being able to pay off their debts with all the money they had been told they would earn.
(Aside: The removal of people from subsistence farming is one reason I doubt the extreme poverty stats, which are based on money. When Mexicans were shoved off their farms due to NAFTA, into slums, they wound up eating less nutritious food for which they had to pay. They had more money, but it's not clear to me they were better off.)
Chang goes into all of this in far more detail than I can, and the book is well worth reading as a sort of "bullshit inoculation" for common economic nostrums. Most of what we are told causes development simply does not; what does work is known, and as much as possible the world system is set up today to not allow it.
If you want to develop, you either need to be big enough to do mercantalism whether the US likes it or not, be able to bribe US elites (China is both big and bribes US elites) or you need to be a nation the US considers a key ally (like Japan or South Korea), which it is willing to allow to industrialize behind various protections. (Japan's first industrialization was done as a British ally.)
That's it, that's all.
Worth reading.
---
The results of the work I do, like this article, are free, but food isn't, so if you value my work, please DONATE or SUBSCRIBE.