Bugpocalypse: Environmental Collapse Continues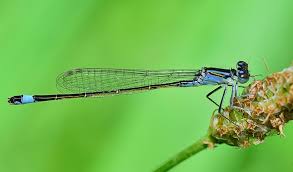 There are two major, interrelated environmental problems today. The first is climate change, the second is environmental collapse. The ecosystem is a very complicated web, from single celled organisms on up to apex predators and humans. When you unbalance it, when you take out chunks, the consequences cascade through the ecosystem, and it is possible for ecosystems to collapse, losing the ability to support higher forms of life, while the makeup of the lower parts changes significantly.
(For example, there are predictions of jellyfish taking over the oceans, or in bio-habitats, slimes becoming dominant.)
Climate change will be catastrophic, and it feeds into ecosystem problems by changing climates faster than animals and plants can adjust, but it's probably survivable for humanity. (Just because humans will survive does not mean you and your kids will survive.)
Probably doesn't mean certainly; there are outside scenarios where some system goes into exponential overdrive and renders the Earth unsuitable for humans.
Ecological collapse has its own nightmare scenarios. Traditionally, the apex predators (and, yeah, that's effectively us), don't survive great die-offs, and we have induced a great die-off. We're losing, basically, all the fish: We have been spreading areas of oxygen drought in the ocean. Anecdotal reports of insect die-offs now have some scientific confirmation:
The abundance of flying insects has plunged by three-quarters over the past 25 years.

This new data was gathered in nature reserves across Germany, but has implications for all landscapes dominated by agriculture, the researchers said.
This amounts to a six percent decrease per year, and it's happening in nature preserves, which are the places one might expect to be effected least.
---
(I am fundraising to determine how much I'll write this year. If you value my writing and want more of it, please consider donating.)

---
Anecdotally, as someone who's almost 50, I remember a lot more insects in cities when I was a child. I see hardly any now.
As humans, we have taken over so much of the land's surface and replaced it with farms and a very few animals (domesticated animals like cattle, chicken, sheep, llamas, and so on). We've removed most of the great forests and jungles, and replaced them with plants and animals that are very close to being monocultures (especially as the animal and plant breeds have been reduced to a few strains, with heirloom strains being phased out.)
58 percent of all vertebrate wildlife was lost just between 1970 and 2012.
On top of this, we have massive use of pesticides, mass release of chemicals into the environment in general, and the vast pools of plastics, all of which have become ubiquitous throughout the environment–including microscopic particles in our drinking water.
We're pushing environmental collapse, in other words.
It's not as obvious as wolves growing too numerous and taking too many dear, then dying off themselves, but it's very close to the same thing.
It isn't, well, necessary. We could do agriculture in ways that didn't create monocultures, didn't use mass pesticides, and made farmlands not be wastelands for everything but our few chosen animals and plants, but we don't. Our cities could be full of green things and life that isn't harmful (or not very) to humans, but they aren't.
In most cases, this might be more expensive and more work, but it would also be better for us. We do better where there are more micro-organisms, not less. We do better where there are more plants, and especially trees, not less. A flourishing biome is in our interest, despite some challenges.
But we haven't. Driven by efficiency and the profit motive, we have chosen instead to strip ecosystems bare, and not create new ones or work to keep those remaining healthy.
This is a great danger to us, and to most other living beings on the planet. We are foolish to think we will escape severe consequences: We will not.
This intersection of ecosystem collapse and climate change contains the highest chance humans have to cause their own apocalypse. The only other threat as large is the use of nuclear weapons.
It may be that humans are simply incapable of handling the technology we can create.
We shall see. It is clear, at the least, that we will need a harsh lesson, with deaths of a billion or more, as a corrective.
Let us hope that's all that happens, and that those who survive, learn from it and change. Permanently.