Trump Is the Next Stage of the Disease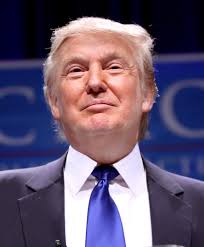 One of the more common mistakes regarding Trump is to see him as something that came out of the blue; unheralded and strange.
Trump is a kleptocrat. The US is a kleptocracy. It "formally" became a kleptocracy when the Supreme Court ruled in Citizen's United that money was speech. (It is ironic that Trump won with less money, but it doesn't change this fact.)
America was pragmatically a kleptocracy in 2009, when Obama entered office and continued his predecessor's policy of bailing out bankers, taking houses away from little people and not prosecuting bankers for clear crimes.
Punish the people without money; let the people with money walk.
Trump is a walkimg emoluments violation: He should be impeached month two of his term for his refusal to sell his company.
But he won't be (though he may eventually be impeached if Republicans decide they'd rather have Pence as President, and that they don't think Trump's followers will personally visit their houses to discuss the issue).
Kleptocracies are run for the benefit of the rich. It is that simple. A monarchical kleptocracy like Putin runs, and like Trump seems interested in running, makes sure the peasants get something, which means it may feel slightly better than what came before it. (Putin is very, very popular and was so even before the recent wars for the simple reason that Yeltsin was far, far worse.)
But they are still kleptocracies. Trump's first order of business is tax cuts, mostly for the rich. There is a report that his team has asked for information on funding of environmental groups, and Trump plans on shutting down NASA's climate change group.
These things get in the way of making money; and because environmentalism was pushed during a period in which the economy was, for too many people, a negative sum game, it is also unpopular with his base.
But these things are extensions of the already-existing Republican party orthodoxy. Tax cuts and fuck-environmentalism is where Trump stands in solid agreement with the kleptocracy that already ran the country. These things are not what make Trump interesting, or unique, they are what make him simply another stage of the disease.
Understand that what we had in 2016 was a crisis point. There were three options. Clinton was for the status quo kleptocracy. More or less the same, with a bit more help for those hurting the most, like students.
Trump was for monarchical kleptocracy, minus globalism: add tariffs and one-to-one trade deals to the mix, change up the foreign policy, make sure some more people get jobs, while gutting worker rights in general.
Sanders was an opportunity to actually change some of the key domestic policies away from kleptocracy: While not ideal, he was clearly a change from the status quo in a kinder direction, and he came fairly close to winning the Democratic primary, despite an active conspiracy by the DNC to stop him (no, no, it meets the actual definition of conspiracy).
Of those three options, Americans chose Trump: a new stage of the kleptocratic disease. Double down on transfers to the rich, but let's give more scraps to the poor and fuck over some foreigners to get those scraps while burning up the world even faster. (Obama was not good on the environment; he was bad, but Trump will be much, much worse.)
I am not panicking, or running around screaming. I regarded something like Trump as nearly inevitable, with a small, but real, chance to avoid him by embracing the populist left (in this case, championed by Sanders).
In fact, Trump is not as bad as what I expected. His victory, a squeaker, may wind up precluding Trump 2.0, that is, the guy who would run next time, having learned from Trump what was possible, but far more disciplined, focused, and ideological than Trump.
Trump has the support of some powerful ideologues (most notably Bannon), and he has a world view, inchoate as it is, but he's a very flawed man. Despite being very good at getting what he wants, it is undeniable that he lacks discipline, focus, and a broad base of understanding. Nor does he self-identify as being ideologically driven. Bannon may want to be the Lenin of the right, Trump does not.
More to the point, because the actions of US elites (and the world's), along with the repeated votes of US voters, kept pushing America down this path, for decades, I regard running around screaming as pathetic. It's like running full speed at an oncoming train for five minutes, with plenty of opportunities to veer off, then complaining when you get hit.
Many Americans, and the vast majority of their elites, affirmatively chose, repeatedly, to take actions and institute policies which were most likely to lead to Trump. Those who opposed those policies lost, and a huge chunk of the population sat on the sidelines doing nothing.
There were many, many opportunities to turn away from this path; the largest was to NOT bail out bankers in 2009.
In 2009, I wrote the US off. I knew that Obama had affirmatively made the choice to save oligarchy from itself (quite different from FDR saving capitalism, but not oligarchy). I knew then that something like Trump was the most likely outcome, but I expected worse than Trump, so far, seems to be.
So running around screaming is ridiculous. This was a choice, made affirmatively, repeatedly. If Trump had lost to Clinton, Trump 2.0 would have tried in 2020 and almost certainly won. The US is a kleptocracy, and eventually the disease would move to the next stage, if not reversed.
What I seek to do now, with regards to Trump, is two things. The first is simply to understand him and his movement. We're going to be living in his America; it's his world, for some time, so we'd best figure it out.
The second is to poke people who didn't and still don't get it, because until enough people do, we will keep losing to kleptocrats (whose number includes both Clintons) and people like Trump.
These two things are meant to support realistic assessment of Trump, the US, and the world so that effective action can be taken.
I have a friend who, as a result of Trump, is leaving the US with his two children. He has carefully looked at Trump, made his assessment of the US's future and chosen a course of action. That is effective.
Make your assessment, take your action. Stop the hysterics. I strongly recommend that many people, who are most worked up, take two weeks off the internet, except for unavoidable work related tasks. Calm down, think, and decide what you need to do for yourself and your dependents. Heck, depending on who you are, you might even be one of the winners from Trump (they will exist).
Then decide what you're going to do. Understand the consequences of your actions. Make your assessment. If you really think Trump = Hitler you should be getting the fuck out or preparing to fight, and I do mean fight. If you don't, what do you think he is?
Get real.
In the meantime, I will continue to keep an eye on Trump and his team and try to provide analysis without hysterics or panic. Fear may be appropriate (it is for some people, for sure), panic is not.
But it will be vastly harder to fix this if people keep pretending it wasn't affirmatively chosen, and not just by people who voted for Trump this time, but by everyone who supported the previous status quo, starting around 1980. Kleptocracy is neoliberalism's child, its logical end-result, and Trump is just a new stage in kleptocracy, and yes, many people worked hard for this including most people who voted against Trump.
Understanding how and why you got here is necessary to get out of here–not in one piece (it's too late for that), but without losing any body parts you'll really miss (always choose to lose a leg–the prosthetics are great).
Trump: Just another stage in the disease of kleptocracy, made inevitable by neoliberalism and affirmatively chosen by modern "liberal" hero, Barack Obama.
Own it.
---
The results of the work I do, like this article, are free, but food isn't, so if you value my work, please DONATE or SUBSCRIBE.