Trump Has Not Yet Lied About What Matters Most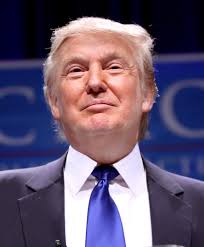 In the brief time that Trump has been president, he has ended the Trans Pacific Partnership, moved forward on his border wall, signed various anti-abortion edicts, given notice he will be renegotiating NAFTA, and announced he'll be banning visitors from six Muslim countries (though he hasn't signed the bill yet).
In other words, Trump is moving forward on his signature issues. If you watched his rallies, or you read the transcripts, you know what issues he kept banging on about, and that those who voted for him have every reason to believe he cared about those issues.
He is, so far, doing those things. This matters one hundred times more than when he tweets delusional bullshit about inauguration numbers. The people who voted for him will forgive those lies if he keeps his promises to them. And, frankly, that's how it should be.
Remember that Obama said he'd renegotiate NAFTA. He never did, and we all know he never intended to.
Trump was elected because he didn't parse like people like Clinton or Obama or Romney: He didn't parse like a normal politician, who will lie about NAFTA. He parses differently, and therefore as maybe someone who wasn't lying.
Now, Trump made other promises that matter more than these ones. For instance, not cutting Medicare and Social Security. Replacing Obamacare with something better.
And he made an ur-promise, which amounted to making people who voted for him better off, especially rust-belters.  That's going to be a hard promise for him to fulfill, because it's in conflict with certain other things he wants to do (and on which he campaigned), like tax cuts and gutting unions. Those conflicts will mitigate hard against his promise to those who voted for him.
So how truthful Trump proves to be, in the ways that matter, is yet to be seen.
That said, he is keeping the promises that matter. Yes, he lies (or is perhaps delusional) about all sorts of things–from widespread voter fraud (non-existent) to inauguration attendance numbers, but I will straight up state that those lies matter LESS than the usual political lies of intent–of making core promises, and then failing to keep them.
One can cavil that Trump has said many things, but anyone who watched his rallies knows what his real core promises were. Making good on those promises is what he will and should be judged on most.
This is not to say there is no damage from his other lies: I disapprove strongly of lying or living in fantasy-land.  Climate change is real, the inauguration numbers are what they are, there is no voter fraud of any significance, and so on. Lying about these things is bad.
But lying about intent; lying to those who vote for you about what you will do, is, in my opinion, worse. So far Trump has been keeping faith in that respect.
We'll see if he continues to keep the faith (to do so he will have to fight Congressional Republicans), but do understand that he has–so far. Understand, more, that the repeated lies of normal politicians about what they would do, then failing to deliver, is what made Trump possible, that made people so desperate they would take a flier on someone like Trump. (It's also what made Brexit possible.)
People were sold lies about how free trade, and austerity, and so on would make them better off, for two generations. Specific promises like that of Obama's regarding NAFTA were repeatedly broken–and, indeed, were never intended to be kept.
And now we reap what has been sowed.
---
If you enjoyed this article, and want me to write more, please DONATE or SUBSCRIBE.