The Votes by Income Graph Does Not Prove Working Class Whites Didn't Break for Trump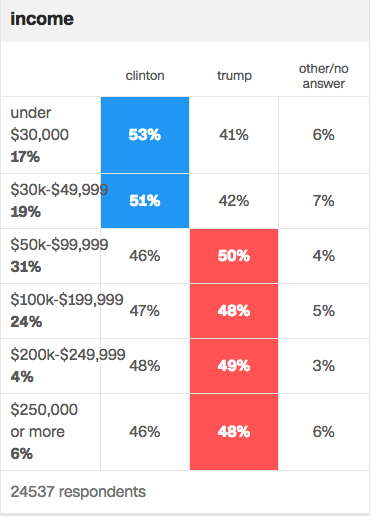 So, this little graph is going around and causing people to say that it proves that working class whites did not break for Trump. It says no such thing.
The reasoning is simple. African Americans and Latinos broke hard for Clinton. Exit polls show Clinton got 88 percent of the African American vote, she received 65 percent of the Latino vote.
Poor Latinos and Blacks are a lot poorer than poor whites. That makes up the difference. Meanwhile, we know that the poorer the county, the more likely Trump was to win it, and we know he made his big break-through in the Rust Belt, where there are a lot of poor whites.
We also know Trump got approximately 72 percent vs. 23 percent of white males votes without a college degree, vs. 54 percent/39 percent for those with a college degree.
No, the white working class story, at least so far holds up and it holds up well.
The real story isn't about working class white males, it is that Clinton lost white women, 43 percent to 53 percent. She lost who you'd expect her to lose, she didn't win the people who were supposed to be "with her," and won minorities by lower margins than Obama. She also lost white counties which were willing to go for Obama.
Update: This chart is particularly damning.
---
If you enjoyed this article, and want me to write more, please DONATE or SUBSCRIBE.