The Congressional Shooting and Political Violence
Alright, so someone took a shot at Congressional Republicans and killed no one, though one Congressperson was injured badly.
I find that I am unable to care about this. No one died (because they had police protection).
However, there is a great deal of stupidity and hypocrisy floating around about this. Let us start with the hypocrisy.
I can't overstate how shaken and emotional lawmakers are today. Every one I've interviewed has broken into tears discussing the shooting.

— Susan Davis (@DaviSusan) June 14, 2017
So, it happens to people they know, without anyone even dying, and they're all breaking up in tears. As someone else said, did they cry for Sandy Hook or Pulse? To hell with them, especially as they belong to the class with the most responsibility for mass shootings.
Now, to the stupidity from my favorite highly-educated idiot:
It's easy to forget what a blessing it is to live in a country where politics rarely leads to violence, and how fragile that blessing is.

— Ezra Klein (@ezraklein) June 14, 2017
I usually don't talk about anything Ezra says, because his entire career has been about sucking up to those in power.  But, well, this is a teaching moment.
Here's a lovely chart: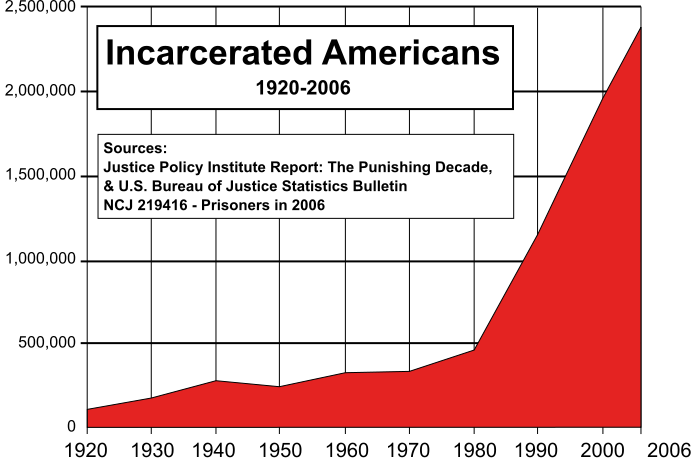 Isn't that a wonderful chart?
What do you think happened to suddenly raise the incarceration rate?
Right…the War on (some) Drugs.
So, something that wasn't illegal became illegal. Making it illegal didn't reduce its use, but did make using it much more unsafe.
What happens in prisons? Well, a lot of violence, including a lot of rape.
Is that political violence? Well, it wouldn't have happened if politicians hadn't made a decision to make something legal, illegal, which increased harm to everyone and didn't make the situation any better.
That is political violence.
Of course there is also non-domestic political violence—like Iraq, Iran, Yemen, Libya, and so on. A lot of people died due to those entirely political decisions. Not one of those countries attacked the US. Not one.
But now "real people" have been attacked, and they are in tears. They had no tears for dead children.
But they have tears for themselves.
---
The results of the work I do, like this article, are free, but food isn't, so if you value my work, please DONATE or SUBSCRIBE.