It Is Better to Be Feared than Loved, if You Cannot Be Both
Contra Machiavelli, I prefer ruling through love, rather than fear.
But, if it can't be love…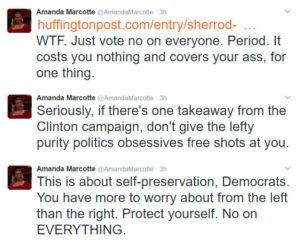 …then fear will do.
For a long, long time, centrist Dems have loathed, despised, and even hated the left-wing part of the Democratic base. (Obama was quite public about this.)
Republican politicians loathe, despise, and even hate their base, too. Be very clear about that. The difference is simple: Democrats weren't scared of their base and Republicans are (as they should be).
If that's changing, that's good news.
Marcotte, of course, is deranged and essentially incapable of reason due to her strong personal identification with Clinton as the avatar of woman. Her understanding of why Sanders was popular and of why Clinton lost are both deficient, and that's the point. It is precisely those people who cannot be reached through reason who must be reached through emotion; and because they prefer to despise the people, it cannot be love that motivates them.
And so, fear it is.
(Sanders, by the way, appears to be the most popular federal politician in America.)
---
If you enjoyed this article, and want me to write more, please DONATE or SUBSCRIBE.