Could Obama Have Fixed the Economy?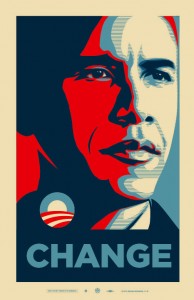 I want to revisit this. Obama was the last person who had a real chance to change and fix things. A crisis is an opportunity. FDR used the Great Depression to change the US. Reagan used stagflation to change the US. Bush used 9/11 to change the US.
Obama could have used the financial crisis to change the US. He did not. That was a choice.
His failure leads straight to Trump and various other pathologies. It is a straight line. Failure has consequences. Belief in the status quo (which describes Obama to the T) has consequences.
So, here's what I wrote about this November 6, 2014 and many other times…
I'm hearing "Obama couldn't have fixed the economy.  Wage stagnation is not his fault, it's been going on for decades!" (For the record it's been going on for at least 34 years, probably 39, and for some parts of the population, for 46 (that's when wages for working class white males peaked. Which is why they're pissy.))
This argument is, to give it more courtesy than it deserves, bullshit. I wrote about this back in 2010, and you can read that article, but let's run through this one more time, because you will never get good leadership if you keep excusing your leaders for betraying you.
Part of the argument is that Obama couldn't do almost anything because Obama only controlled the House, the Presidency, and didn't quite have 60 votes in the Senate in his first two years. Because this is the case, I'll deal with this argument in two parts.  In part one, we will discuss something that needed Congressional approval.
The Stimulus: Negotiating 101, people, is that you always ask for more than you want. Obama asked for too little, and a huge part of his stimulus was tax cuts. Worse than this, his stimulus was structured terribly. What you do with a stimulus package in a recession and financial collapse is you use it to restructure the economy. That means things like moving the entire federal package of buildings over to solar, and buying from American companies. (Don't even try to natter on about trade deals, the US is more than happy to ignore trade rulings it does not like.) That means putting aside a huge amount of money to refit every American house to run on renewable energy, which are jobs which cannot be off-shored or outsourced; they must be done in-country.
That also means building high-speed rail, and using eminent domain to get it done. It further means moving money off the sidelines which would otherwise sit there by providing a clear direction for the economy so that private actors invest hire and invest.
---
(I am fundraising to determine how much I'll write this year. If you value my writing and want more of it, please consider donating.)
---
Note that, while Obama did not negotiate properly, he did include a huge amount of tax cuts (right-wing ideology), and he produced a stimulus which did not restructure the economy or get private money off the sidelines. I wrote extensively about this at the time. None of this is post-facto judgement:
January 5, 2009: The day the news leaked that 40 percent of the stimulus was tax cuts, I wrote it wouldn't work.
January 17, 2009: The full details are out. I write: "For ordinary people however, there will be both wage deflation and real asset deflation…"
Now, all the things Obama could have done which DID NOT require Congressional approval:
Prosecute the Bankers: This is an executive decision–entirely an executive decision. There was widespread fraud, and no senior executive on Wall Street could credibly claim to not know about it. Seize their emails, indict them under RICO statutes (i.e., take away all their money and force them to use public defenders), and throw them in jail. Do not let them get off with fines that are less than the profits made, effectively immunizing them. This means they will keep doing fraudulent and destructive things, because doing so made them personally rich.
Oh, also, there are now fewer, bigger banks.
Take Over and Break Up the Banks: The Federal Reserve had trillions of dollars of toxic sewage on its books which it borrowed at par, which could not sell on the market at par. But Ian, you cavil, "the Federal Reserve is independent of the President." No. The President can fire any member of the Board of the Federal Reserve except the Chairman for cause and replace them. Letting the financial collapse happen might qualify as cause. Even if Bernanke refused to leave, he could have been outvoted on every issue by Obama's people. Once you control them, you return all the toxic sludge to the banks. They go bankrupt. Which leads to:
Make Stockholders and Bondholders Take Their Losses: Yes. This will wipe them out. That's the point.  The problem with the rich isn't primarily that they are rich, it is that wealth allows them to largely control the government (I trust this is non-controversial. If it isn't, I hope you're on a payroll and required to believe such sewage.) Making them take their losses breaks their power. Once their power is broken, it's a lot easier to get everything else done. This is also a popular move. (There are ways to fix the pensions which go bankrupt, another time on that.)
Using the Banks You Took Over and Broke Up, Lend! These banks are now under Federal control. They do what the President wants, when the President wants it done. They start lending to create small business, rebuild the nation's infrastructure, move to renewable energy, and so on and so forth. (Read THIS, for what the US needed to do at the time. Again, it was written at the time.)
This article is not exhaustive
There are many other things Obama could have done, that he chose not to do. It is entirely fair to judge Obama on the economy because not only did he never do what was needed to fix it, he did not even try. Everything he did that was supposedly to fix the economy was insufficient, and he was told so at the time by people who had been right about the oncoming financial crisis, in advance.
Even in small things, like aid for homeowners, the Obama administration chose to do as little as it could–even when it had both the authority and the money for it (which it did).
Obama is a Right-Wing President. That is all. He is a Reaganite, and to the right of Reagan, but somewhat to the left of the Tea Party, which puts him in spitting distance of Atilla the Hun (his record on civil liberties is, according to the ACLU, substantially worse than George W. Bush's. He deported more Hispanics than George Bush ever did, etc.) Obama had plenty of power to make more of a difference than he did, and he chose not to. In the small things, in the big things, when it came to economic policies and to non-identity-based civil liberties, he virtually always did the right-wing thing.
Obama is the first President in post-war history (and maybe all of history) whose economy gave more money to the top 10 percent than the entire value of all productivity gains in his Presidency. Even George W. Bush didn't manage that.
Yes, stagnation of wages and wealth, and even the drop of both in many sectors while money concentrated in the hands of the rich is something which has been going on for decades. It is hard to stop.
But, because of the financial crisis, Barack Obama had the opportunity. Calls against TARP were running, according to my sources, 200:1 to 1200:1 against. It failed to pass the first time. Nancy Pelosi said she would not pass it if an equal proportion of Republican House members would not vote for it also. They refused to do so.  It would have died except for one thing: Obama twisted arms to make it happen. As the Presidential candidate (and likely future President), he had the ability to do that, and he did.
Again, Obama did not fix the economy because he did not want to. Or rather, keeping rich people rich was more important to him. You can argue, if you wish, that he was not willing to break up the banks because it would have been catastrophic. That argument cannot be dealt with fully here, without doubling the length of an already long essay, but I will be gauche and quote myself, once more, from 2008:
Now, it's the US. They can try and sweep this crisis under the carpet and pretend there isn't a huge overhang of bad loans and worthless securities. If it does so, the best case scenario is that the next twenty years or so will be America's Bright Depression (Stagnating economy). Best case.
I will tell you now that the best case has not happened. As the charts in this post show, the economy stagnated for ordinary people through the recovery and boom of this business cycle. During the recession, there will be job losses again. Most of them will not come back in the next recovery and boom, and neither will wages.
This is Barack Obama's legacy. Those like Paul Krugman (what happened to Paul?), who pretend that Obama is a great president are laughable. History does not grade on a curve; "Well, we aren't all chewing on our boots." Obama had a historic opportunity to be the next Franklin Delano Roosevelt. Instead, he chose to save the rich, and let them eat everyone else. This was a choice. He could have done other things.
Nor is this a noble failure; he did not even try. He did not use the real tools he had at his disposal.
I note, finally, again, because I know most readers will have heard over and over again that Obama saved you from Armaggedon, that the US economy cannot be fixed until the wealth, and therefore power, of the very rich is broken. It cannot be done. However bad you think it would have been if that had been allowed to happen, this economy will continue to get worse because it was not done.
The Federal Reserve has printed trillions of dollars, and given them to the rich. Imagine another world, where it had printed that money and used it to restructure the economy for prosperity and growth.
That, my American friends, is the future Obama stole from you. Indeed, because the rest of the developed world would have followed his lead, he also stole the same future from all of us.