Book Review of "Dark Age Ahead," by Jane Jacobs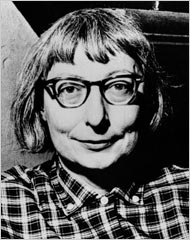 This isn't the best book by Jacobs, the famous theorist of city planning, economies, and morals, but on re-reading it for the first time since it was published, I thought it made points worth sharing.
Jacobs defines a "Dark Age" primarily as a great forgetting: Society loses the skills and culture known to one's forbears in a widespread way.
She follows Henri Pirenne in naming the key point where Europe's decline turns into a Dark Age as being when Mediterranean trade ended with the Muslim conquests–but the forgetting had been going on for years. Roman craftsmen in the 3rd century could not make items that their forebears could make in 0 AD, and by the fifth century, cities and culture were in noticeable decline under an autocratic state which allowed very little economic freedom. This state, with its remains of a much higher Roman and Greek culture, impressed the barbarians on its borders greatly, but it was a shell of what it had once been.
Once the Dark Ages descended in full, well, things got ugly. There was the loss of the three-field system, the loss of a skill as simple as bread-making (so much so that the staple food around Paris in 1000 AD was gruel), and the loss of most iron-making abilities, so that people were plowing with wooden plows. Archaeologists say the bones of French peasants show that they ate grass–which even showed up in their teeth, so they must have eaten rather a lot.
That's a Dark Age.
Jacobs had recently read Jared Diamond's Guns, Germs and Steel, which is about why some areas do well, and others don't. The answer basically comes down to: "Those that start with the most just keep winning." Jacobs noted that Diamond didn't explain why such regions sometimes stop winning, such as the Fertile Crescent (the core of civilization for almost 8,000 years) and sets out to provide her own answer.  (Diamond later wrote his answer, which came down to (and I agree, in part, nor is he the first to make the point): "Advanced regions stop winning when elites are insulated from the effects of their actions.")
I think that Jacobs' answer, which she is not the first to give, is somewhat more interesting, however, if perhaps less fundamental.
Jacobs, as the book title suggests, saw signs that we in the West were moving towards a Dark Age. This was due to forgetting–not being able to do what we had done in the past. In this case, it is not about losing technical skills (yet), but in losing certain scientific skills and in not understanding how it is that our economies actually produced the civilization in which we live and thus being unable to do what our predecessors had done.
Jacobs hits five points as examples, starting with families. She notes that the median family can no longer afford the median house in most of North America; that the decline of community and extended family means that child-rearing has fallen far more on fathers and mothers than in the past; while median wage stagnation combined with fixed costs rising has meant people need to work more. These are all conditions that push the family towards failure, and indeed, that can be seen in the very high divorce rates.
As anyone who has read her knows, Jacobs thinks suburbs are very unhealthy: They don't create community (no walking, no street life), and they don't foster real economic growth due to zoning regulations. The large is often the child of the small, and we have deliberately pushed people into neighbourhoods which, by design, cannot be communities. There are other causes of the decline of community and family, and many are deliberate policy choices, like making housing prices rise faster than wages (this is policy, and has been since, at the latest, 1983).
Because society is made up of families, and families are the most responsible for the important work of raising the next generation, the failure of families indicates a deep malaise in society. Note that at the same time as families are under stress, alternatives like schools and community groups and libraries are also in decline; as parents need more help, less help is available.
Jacobs second point is that education at the post-secondary level is no longer education, it is credentialing. I shan't go into that at great length, but it's worth reading, because Jacobs was alive during the Great Depression, and personally remembered the GI boom, and so on. She was there when universities became credentialing institutions and not educational facilities, that is, places where you get a piece of paper that lets you apply for a job rather than an actual education. On a personal note, I have never found that in any social science, except perhaps political science (which I do not find useful), that I do not know more than almost any person with a B.A. in the subject. They've had four years of specialized instruction, and they know less than an autodidact.
Jacobs' third point is about science. She starts with a review of the basic theory of science (testing hypotheses), and the work of Thomas Kuhn on how paradigms guide science and are overthrown. She then eviscerates traffic engineers (this is an old Jeremiad of hers, starting with The Death and Life of Great American Cities in 1961). Their fluid dynamics model of how traffic should operate (constrict it one place, it goes somewhere else) is not supported by the data, which shows that if you constrict traffic in one place, it often just disappears. She goes on into much technical detail about proper street use, but her point is simple: What traffic engineers say works, doesn't work if you actually look at the data. That they don't recognize this indicates bad science.
She then looks at the Chicago heat wave of 1995. 739 people more died that week than during an ordinary week, mostly old people. The Center for Disease Control sent in a team of 80 researchers, and they did a huge study which came to the conclusion that they had died because they ran out of water, didn't have air conditioning, didn't go somewhere that did, and weren't checked in on.
As Jacobs points out, that's what everyone already knew. Not useful.
Meanwhile, a single sociology student noticed something interesting. Death rates in certain parts of the city were much higher than others. Turns out that people who lived in low-density, low-income neighbourhoods were less likely to have air conditioning, more likely to lose water pressure because of kids opening hydrants, had fewer stores with air conditioning nearby, and fewer friends–especially local friends. They didn't answer the door when checked on, and didn't want to leave their homes, because they were scared of crime.
The CDC had not looked for what tied the people together as a group. Instead of looking individual characteristics, the CDC should have been noting where they lived, and to a large extent, their socioeconomic status.
Since the goal of the study was to figure out what to do next time, the second set of data was far more useful than the first.
The last part of this chapter is taken up with noting that economists don't really understand what causes growth (creation of new work in cities and import replacement splurges in cities) and, as such, were mystified by periods of large growth in Canada which did not accomodate their models (in Vancouver in the early 90s, and Toronto in the 2000s), but I'll leave that be. (See my review of The Economy of Cities to learn more.) The fact that economists don't understand economies will surprise no one who remembers that most economists said there was no housing bubble.
Jacobs' fourth point is about taxation, in particular, that the parts of government which have the ability to tax the most are the farthest removed from the people they serve and the least responsive to people. Our taxation system lacks subsidiarity and fiscal accountability.
Subsidiarity is the principle that government works best–most responsibly and responsively–when it is closest to the people it serves and needs it addresses. Fiscal accountability is the principle that institutions collecting taxes and disbursing taxes work most responsibly when they are transparent to those providing the money.
In other words, the more local the authority, the better it spends its taxes. This is one (only one) of the reasons why city states tend to be successful. People who spew over Singapore make me laugh: Of all the forms of government in the world, running a city state is the easiest as long as one can solve the violence problem (i.e., not getting taken over by someone larger).
Jacobs believes that these issues have been getting worse: More and more spending decisions are made further and further away from local government and those decisions are more and more opaque. She targets property taxes as the basis of city government in particular.
I am in broad agreement with her, actually, and would put primary responsibility for taxes on the local level, with mandated transfers up and out to rural areas, rather than our current system of federal governments doing most of the taxing and then deciding how much money they want to give local areas.
It's not clear to me how much of this is new, but Jacobs is probably right that it's getting worse and worse as populations increase. Cities can't keep up with the taxes they have; federal and state/provincial governments would rather spend the money on items that don't help the cities, and the next thing you know BART is 40 years old and dying, or Toronto's subway and transit system can't keep up with the population either.
Jacobs' final example is about professional self-policing. She uses the decline of the accounting profession (right after their failure to notice Enron's problems before it collapsed) as her case example, but arguments could be made for many professions, certainly including the clergy, medicine, and American psychologists. It's very hard for government to regulate professionals properly, because they don't understand the profession, so it is ideal for professionals to do it themselves. If they can't, then the government must, and something important is lost. (Alert readers will notice the relationship to subsidiarity.)
Having tackled these five areas in much more depth than I can cover, Jacobs turns to the question of how to fix these self-reinforcing downward spirals, using as her example housing, which was her first point when dealing with how families are being set up to fail. She runs through the history of how we got into this mess and suggests that with appropriate changes to zoning laws, suburbs can be turned into high-density, productive neighborhoods with solid communities, reducing both the cost of housing and bringing back community.
Jacobs concludes the books with thoughts on the patterns of Dark Ages; how agrarian societies were gutted and lost their culture due to industrialization, how successful societies are in the most danger, because they cling to the ways of their success, and how some societies, like Japan, managed the transition from agrarianism to industrialization, under armed threat, and still maintained their culture and did not fall into a memory hole dark age. I'm not sure she has much in the way of prescription, other than, "Add to what you had," but perhaps that's appropriate: Jacobs' prescription was given in her section on how to turn suburbs into communities and reduce housing prices at the same time, thus aiding the family.
To Jacobs, the small details matter as much as the big, and while every problem is related, each problem needs its own solution. If you want to fix X, you need to really understand the problem. Having spent her life studying cities, housing, and urban economics, Jacobs tackled the problem she knows how to handle and hopes that we can see, in her solution (take the old and turn it into something new, build off what is there) a pattern to use to fix problems in the areas of our own expertise.
As I said at the start, I don't think this is Jacobs strongest book, and if you've read her other works, perhaps a third of it will have you thinking, "Oh, that topic again, my she loves to grind this axe," but it may be her most timely book, given the times which lay ahead of us. The rest of her work covers principles which should still be useful a thousand years from now, assuming we haven't become post-human or scavengers in a glowing post-apocalyptic wasteland.
And thinking of a "Dark Ages" as a loss of culture, a loss of learning, technology, and science, focuses our eyes on what we are losing as we move forward and what we might not be able to regain (for example, through offshoring manufacturing, we lose culture and know-how that will be extremely difficult to restore).
Worth your time if the topic interests you.
(I will review one more of Jacobs books, Cities and the Wealth of Nations.)
Note on the book review series. During last year's fundraiser, I promised 20 book reviews. Clearly, not all will be done this year, but all will be done. The "Construction of Reality" e-book is two-thirds complete (of the text that will not be substantially revised) and that will be released as well.
---
The results of the work I do, like this article, are free, but food isn't, so if you value my work, please DONATE or SUBSCRIBE.