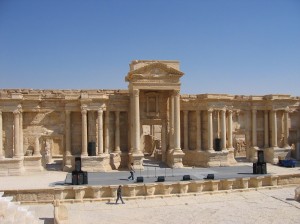 So, yet another city falls, and the city has some very nice ancient architecture, which we will no doubt soon see sledgehammered.  Some Palmyrans apparently thought the international "community" might protect them since they're a great cultural site. I'd laugh if it wasn't so sad.
ISIS has fought well and fought smart, and came into a regional war which had been going on for years.  (One can argue, in Iraq, since the first Gulf War.) They have a huge ideological advantage in claiming to be the Caliphate reborn, and they have made ground. I keep hearing speculation that Syria's government is on its last legs, but I have no feel for whether this is true or not. In large part, they appear to have been giving back gains.
One advantage the Syrians have is that they have to fight in their core areas; if they lose, there will be no mercy from ISIL. Everyone knows what they do to prisoners. A second advantage is that Hezbollah can't afford for Assad to fall. If he does, their supply routes to Iran are cut off.
Back in 2008, I was in Las Vegas, and I sat at a table with a wealthy Syrian merchant and his beautiful wife. We talked about what we did, and he thanked me for what I did at the time, because he understood that I got paid shit in order to work against events like the Iraq war. I thought that was awfully gracious, given how little success those of us who oppose such stupidity as Iraq or arming the dissidents in Syria have had.
It's not that I have any mandate for Assad; he's a truly horrible man who appears to personally delight in torture. But war and anarchy have huge costs, and the early opposition were always very dubious people–perhaps not quite as bad as ISIL, but certainly no great improvement over Assad and without the saving grace of competence, meaning that they couldn't necessarily expect to win the war quickly.
And Assad proved to be a lot more determined than most observers expected, the Syrian army, under Iranian and Hezbollah tutelage improved, and so on.
I'm not against all war, or against all violence. Sometimes they are the least worst option. But Syria never passed that test.
I wonder what happened to the gracious Syrian merchant I met. Are he and his wife and children alive? Being wealthy, did he get out? It's not that he was more deserving of life than any other Syrian just because he happened to play blackjack with me.
But he was kind and gracious, and I remember him. And I wonder how many kind and gracious Syrians and Iraqis have died, men and women I would have liked, in the Middle East.
With no Iraq invasion, there is no ISIS. Saddam was a bastard, but again, the status quo was better than what the invasion caused.
The barrier for "just war" is high, and it is both pre- and post-facto: Fuck it up, and it doesn't matter how wonderful your intentions were. Idiots used to go on about the Pottery Barn rule: "If you break, it you own it." They didn't mean "You then have to fix it." Japan and Germany were rebuilt, but the preparations for Iraq made it clear that such rebuilding would never happen there, and the aftermath of Libya has been a clusterfuck.
Perhaps George Washington, whom I believe (with those who lived at the time) was the greatest of America's Founders, was right. Not just for America, but for all nations, when he advised avoiding all foreign entanglements, and to be a friend to all nations.
Perhaps not always right, but perhaps you really do need to pass the "Nazi" test, and Saddam, Assad, and Qaddafi were never Hitlers, despite the rhetoric used to justify each war or intervention or "aid."
Leave people alone. If they want to overthrow their rulers, great, but that's their business and not yours. Short of actual genocide (which we never intervene against anyway–see Rwanda or Cambodia), war is almost always worse than the status quo, and outside intervention rarely seems to make the situation better. (See the Ukraine for this also–and yes, Maidan was an intervention by outside forces.)
---
If you enjoyed this article, and want me to write more, please DONATE or SUBSCRIBE.