Trump and the Taming of the Oligarchs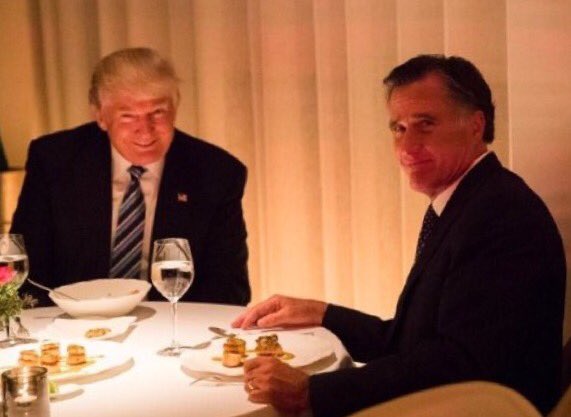 Some years ago, I read an article about a Russian oligarch who had wanted to close a factory in a Russian town in which the factory provided the only real jobs.
The people complained to Putin, and some time later Putin appeared on stage in the town with the oligarch. With an eye on the oligarch, Putin explained that the jobs would be kept in the town.
Putin's speech was described as being cold and contemptuous towards the oligarch.
When Trump convinced Carrier to keep some, not all, jobs, in America, he did so largely through bribes.
What will be interesting, however, is to see how much he makes people bow.
Putin broke some oligarchs and allied with others, but the important thing to understand about Putin's relationship with Russian oligarchs is that Putin is the senior partner. He is in charge. They can do well, even very well, but if they challenge him, he will force them to bow–or break them.
(For the record, I have less than zero sympathy for the oligarchs; I know how they made their money.)
We all, I presume, remember the picture of Romney meeting Trump, begging for the Secretary of State job (which he didn't get). I suspect Trump really did want to give the job to Romney, simply so he could force Romney to bow on a regular basis, but Trump's loyalists hated Romney too much.
Meanwhile, the tech oligarchs have all also met with Trump. He was gracious, but they came to him, despite their clear opposition of him.
One of the issues in the US is that its oligarchs think they don't have to serve the public good. Apple and other companies have billions stored overseas, they dodge taxes, and they move jobs overseas at the drop of a hat.
They also think they don't have to bow to the President.
Now Trump cares somewhat about Issue #1 (by which I mean jobs, not tax dodging), but he's going to care a lot about Issue #2 (bowing to the President). And Bannon cares a lot about both, because Bannon despises America's oligarchs and wants to see them humbled.
Trump, well, Trump likes power. He wants to be loved by the mob, oh yes, but he values loyalty greatly, and, if crossed, he likes breaking people.
So I expect to see a number of oligarchs and other powerful people made examples of, forced to bow–indeed, forced to kneel.
If Trump wants to get his way, this is necessary. He needs these people to do some things they don't want to do (make less money by bringing jobs back to the US), and they'll need to be scared of him.
They need to be personally scared. They need to believe they personally aren't immune from his power.
Trump will enjoy this. Bannon, if I read him correctly, will enjoy it even more.
Under Trump, oligarchs will do well, even very well. But not if they don't bow. He wants some crumbs for ordinary Americans, and he needs the oligarchs to give them.
So one of the ways I will know if Trump is going to be successful (i.e., get his people enough goodies to get his second term, and the accompanying adulation) will be by watching the "kneeling to bribes" ratio, and seeing what Trump does to those companies who refuse to cooperate.
Be very clear on this, folks. This is something about which most people are complete idiots.
There is nowhere to go.
The rich cannot actually move their companies overseas. Where are they going to go? Europe will regulate them even harder (see all the problems Google is having). They don't want to live in China or Russia, and China and Russia are the only countries strong enough to tell America to bugger off. Plus, of course, Putin and the Chinese Communist party won't just make them kneel, they'll make them get down on their bellies and grovel like worms.
No one else can stand up to America. Oh, Europe could, if it had its act together, but it doesn't; and it wants regulation that repel oligarchs. Tax havens are a joke; they exist because the great powers want them to exist, and the second the Treasury cracks down on them, they will go away.
So if Trump wants to put the screws on, he can–especially if he's smart about it. You make an example of a few people, you reward the others for cooperating, and soon they're all bowing and scraping.
That's how it works.
Let's see if Trump knows how to play the game.
(And, for the record, no, this isn't good. But the financial crisis proved we already have rule of men, and that this rule is to be used solely to enrich the few and immiserate the many. Rule of law will continue to disappear. I have no sympathy for most of the US's oligarchs, because, while not as outright nasty as Russia's oligarchs (on average–some of them are just as bad), they are almost all truly bad people who have strangled the US, and the world, to get where they are.)
The games are on, Caesarism continues its rise. It's what Americans voted for and elites worked hard to create the conditions for it. Crying over it is like crying over physics.
---
The results of the work I do, like this article, are free, but food isn't, so if you value my work, please DONATE or SUBSCRIBE.