The World Through Vladimir Putin's Eyes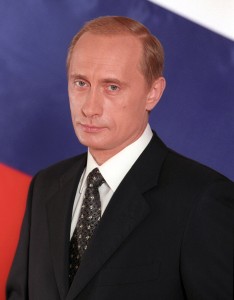 The Sochi Olympics have put the spotlight on Russia, and there has been great excorciation of Russia for its discrimination against gays, and much mockery for the problems with the Games, such as one of the five Olympic rings not opening, Wifi that doesn't work, bathrooms with two toilets in the same room and so on.
What is interesting about this is that there are so many minor problems.  Do you remember these issues during the Beijing Olympics?
No.
And, if you're older, like me, do you remember them from the Moscow 1980 Olympics?
No.
In 1980 USSR, the Russians could still put their fingers down and make things work. Oh, to be sure, wherever the Politburo and the best of the KGB wasn't watching, it was a mess, but if they concentrated their efforts on one place, things got done.
Whatever problems the USSR had by 1980, let alone by the time it fell, for many Russians, it was better than what came after.  Putin believes this:
When Igor Sechin was working as President Vladimir Putin's deputy chief of staff a decade ago, visitors to his Kremlin office noticed an unusual collection on the bookshelves: row after row of bound volumes containing minutes of Communist Party congresses.

The record stretched across the history of the party and its socialist predecessor — from the first meeting in March 1898 to the last one in July 1990, a year and a half before the Soviet Union collapsed, Bloomberg Markets will report in its March issue.

Sechin regularly perused the documents and took notes, says Dmitry Skarga, who at the time was chief executive officer of Russia's largest shipping company, OAO Sovcomflot.

"He was drinking from this fountain of sacred knowledge so that Russia could restore its superpower status and take its rightful place in the world," Skarga says.

Sechin's back-to-the-future fascination with his country's communist past is something he shares with Putin, who, soon after coming to power in 1999, restored the music (though not the lyrics) of the Soviet-era national anthem and later described the collapse of the USSR as the greatest geopolitical catastrophe of the 20th century.
Why does Putin believe this?  It seems like nonsense to most Westerners.  But if you're Russian, and you remember the 90s, you remember a time when rapacious oligarchs seized control of the country, the population went into sharp decline, where there wasn't enough food and where hot water was a luxury denied to many.
You remember constant humiliations at the hands of the West, as they carved up Russia, the USSR and the Warsaw Pact, and you remember that NATO kept expanding East even though Bush Sr. had promised Russia that wouldn't happen.
The 90s were terrible.  As bad as the late USSR was, the 90s were worse.
The sardonic joke was "everything the Communists told us about Communism was a lie.  Unfortunately, everything they told us about Capitalism was true."
To put it simply, privatization, known as shock doctrine, was a huge failure in Russia.  It led to control over the economy being in the hands of a few rapacious oligarchs, none of whom didn't routinely use coercion and violence to get their way, it led to a collapse in population, life span, of oil production… of everything.
If this was capitalism… why would the Russians be impressed?
And meanwhile, in Chechnya, the Russian military couldn't even put down an insurrection.  The Red Army may have failed in Afghanistan, but in the provinces of the USSR, well, no.
So Putin gets in charge, and he looks at what privatization; what shock doctrine has done to the country, and he think that the USSR is better.  So he makes examples of some of the oligarchs, re-nationalizes the key parts of the economy, including oil and high tech production, as well as those parts which can't compete.
Peskov says, "for example, in shipbuilding it's absolutely pointless to carry out privatization," he says. "You can privatize enterprises, but they won't be competitive; they will be doomed to failure. So consolidating the assets under the state's wing is the only way to preserve key sectors of the economy."
Next he turns on Chechnya and he wins his war, he crushes the Chechens, then he pours billions into rebuilding their capital.  Bear in mind, this is sold as an "anti-terrorist" war, just like Iraq and Afghanistan were sold to Americans.  Remember how popular Bush was as a "war president"?
Putin starts bringing countries which were once part of the USSR under the Russian umbrella again, and tries to slow the advance of NATO and the EU East towards Russia's border.
So what Putin has done is look at the results of the collapse of the USSR: the economy trashed, population declining, oligarchs stealing, Russia humiliated, a major insurrection in the South, and he's reversed them.  The economy may not be brilliant, but it grows fast for most of the 2000s.  Oil production grows and exceeds USSR production, and pays for more than 50% of the government's budget.  Population stops declining.  Unemployment drops, and is lower than in some European nations.
Perhaps state capitalism, which is what Putin is doing is "inefficient", but it's supplying jobs and it's paying the government's bills.
And Putin is genuinely popular.  In the last few years there have been demonstrations, but while Putin's reelection wasn't fair, it doesn't appear to have been stolen.
Why?  If you remember the 90s, and most people do, Putin has demonstrably made most Russians better off and strengthened Russia.  And very few Russians are crying tears for what he's done to the oligarchs, all of whom are little better than Mafia dons themselves.
If you're Vladimir Putin, you think you've done a great job.  You think that the West are a bunch of flaming hypocrites who hate Russia, as well.  Look at all the screaming about human rights during these Olympic Games.  While there was some about China in 08, it was magnitudes less.  And if China doesn't discriminate against gays, well, they certainly are at least in the same league as Russia when it comes to human rights abuses.
Besides, who can take the US, which invaded Iraq based on lies, which tortured, which has the world's largest assassination program and whose NSA runs a surveillance state which in certain respects would make the Stasi blush, while imprisoning much of its black male population, and bailing out private actors to the tune of trillions of dollars to lecture anyone else?
To Putin, Western lectures look like sheerest hypocrisy.  The West, in its banking scandals, proved itself as corrupt as Russia, and on a much larger scale. In Iraq it proved that it would brutalize non-Western populations for no reason.  In Greece it has driven its own population into penury, and all through the West the surveillance state rises, and people continue to lose their rights.
Meanwhile Russia's unemployment rate is better than most Western nations.
None of this is to deny that Putin is not an evil man, and though I don't know if he'd put it that way himself, I doubt he has any misconceptions about the fact that he's a strong man; a man on horseback and a man who has committed innumerable war crimes, while ruling through fear and intimidation as well as popularity.
Russia's got problem, big ones, and Sochi has highlighted them.  Putin has failed to transition the economy from resources, and he has not kept corruption under limits: corruption is one thing, that the system can't be made to work in high profile circumstances like Sochi, is another.
But when your economy is more than 50% reliant on oil, it's almost impossible to stop corruption or to transition off of resources.  Resource economies are corrupt, period, because whoever has control of the resources makes so much more money than everyone else, and people will do anything to get near the money spigot, while those who do control it can buy anyone they want.
In this resource economies are similar to financialized ones. In both cases, there is a money spigot, and you are either attached to it, or you aren't. If you are, life is great. If you aren't, well, not so much.
So, if there is a money-spigot, do you want it controlled by oligarchs, or by government?  Which devil is worse?  The Russian answer, Putin's answer, is government.  Right now the West's answer is oligarchs.
Neither is right, of course, but that's another essay.
For now, look at Russia, and the world, and try to see them through Putin's eyes.
---
If you enjoyed this article, and want me to write more, please DONATE or SUBSCRIBE.