The news is all bad. You may have seen this graphic already, but it's worth meditating on.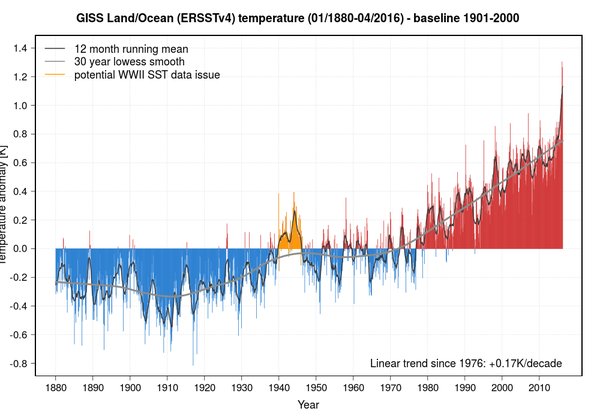 Yes, this year has been breaking records. Every single month has been the hottest on record.
There is a chance we've "broken out" from the trend, and will now see full operation of the vicious cycle.
I am going to suggest that readers start taking this into account in their personal lives. Figure out how climate change is likely to effect where you live. It isn't always obvious or linear (for example, there's a chance that Europe could enter a cold-free if the Gulf Stream shuts off, and it's already lost one-third of its strength).
Effects will also include movements of people from the worst affected areas. Is where you are, or are going to be, one of the places they will flee to? Are you in a "global city" where the richer citizens may want an "insurance property" driving up real-estate prices even more?
What do you want to do about this for yourself, your family, your nation, and/or the world?  The answer can be "little to nothing," but it's worth thinking on. Pushing for residence requirements for real-estate ownership could save your house or condo, as increased prices will increase taxes. It could also make it possible for your children or other young people to live in the nicer cities where the good jobs are.
Where are the refugee camps going to be set up? Does your country have any realistic possibility of settling refugees fairly rather than in camps?
Are you, conversely, in a place from which people are going to have to flee?
Move before you are required to flee. Really. Take the hit necessary and get out, unless you're old and without dependents.
Is your area going to run out of water? I recently visited San Antonio, and that city will probably run out of water in a couple decades. It might be able to import enough, but it might not. Water is going to be in short supply all through the south.
As shortages hit, violence will increase. Are you on good terms with the local violent authorities, whoever they are? Dean Ing, the science fiction writer and survivalist, moved to a small town and then made sure to become friends with the police chief and the local base commander.
Are you considering how to get, at least partially, off the grid? Could you eat or drink for a few weeks if there were disruptions? What about alternate heating or cooling arrangements? Do you have a "bugout bag" and a "bugout plan" if you have to leave suddenly? The very basics can be cheaper than one might think.
Some of this may be overblown: yet. But it's worth thinking this stuff through and making what precautions you can. And remember the #1 rule of surviving bad times and disasters.
Friends and neighbours. Make sure you have friends, locally, and that your neighbours know and like you. People who are well-liked by a lot of people are far more likely to survive bad times than those who aren't. And having really good friends wherever you may have to flee to, if it comes to that, is wise.
Start cultivating.