Obama's Just the Enemy and Always Was
One of the most amusing things about the 07/08 primary season was how often Obama praised Reagan and how few people took him seriously. Obama thought Reagan was great and said so repeatedly.
"He put us on a fundamentally different path because the country was ready for it. I think they felt like, you know, with all the excesses of the 60s and the 70s, and government had grown and grown, but there wasn't much sense of accountability in terms of how it was operating. I think people just tapped into — he tapped into what people were already feeling, which was, we want clarity, we want optimism, we want a return to that sense of dynamism and entrepreneurship that had been missing.
What's important about this is that Obama agrees with Reagan about what was wrong with America.
He also felt, correctly, that Reagan was a transformative President, but Obama wasn't one, because what Obama did was follow Bush: He enhanced the security state, cracked down further on civil liberties, deported more people, ran TARP and the bailout, and so on. Obama was the person who institutionalized Bush, not a President who turned in a different direction.
Fundamentally, Obama agreed with Republicans on a lot of key issues, he just didn't always want to do as much (no more tax cuts). Even Obamacare was a Republican plan, something Republicans have forgotten.
None of this is to say Obama did no good things; of course he did, but overall he was disastrous.
A lot of people, however, want to say that isn't what was in his heart. For them, I offer this:
Barack Obama rang Conservative headquarters on election night with a mistaken but reassuring message for Theresa May because Labour insiders had told him the party was expecting to lose seats, according to a new book about the election.

Shortly before the exit poll, which sent shockwaves through both party headquarters, the former US president contacted a friend in Tory central office with the soothing news that Labour was expecting to see the Conservatives increase their majority.
It's really impossible to overstate how evil the Tories have been. These are people who literally have been taking wheelchairs away from cripples. They've tripled the deficit, de-funded health care and generally acted as cruelly as possible.
A particularly egregious example is the following.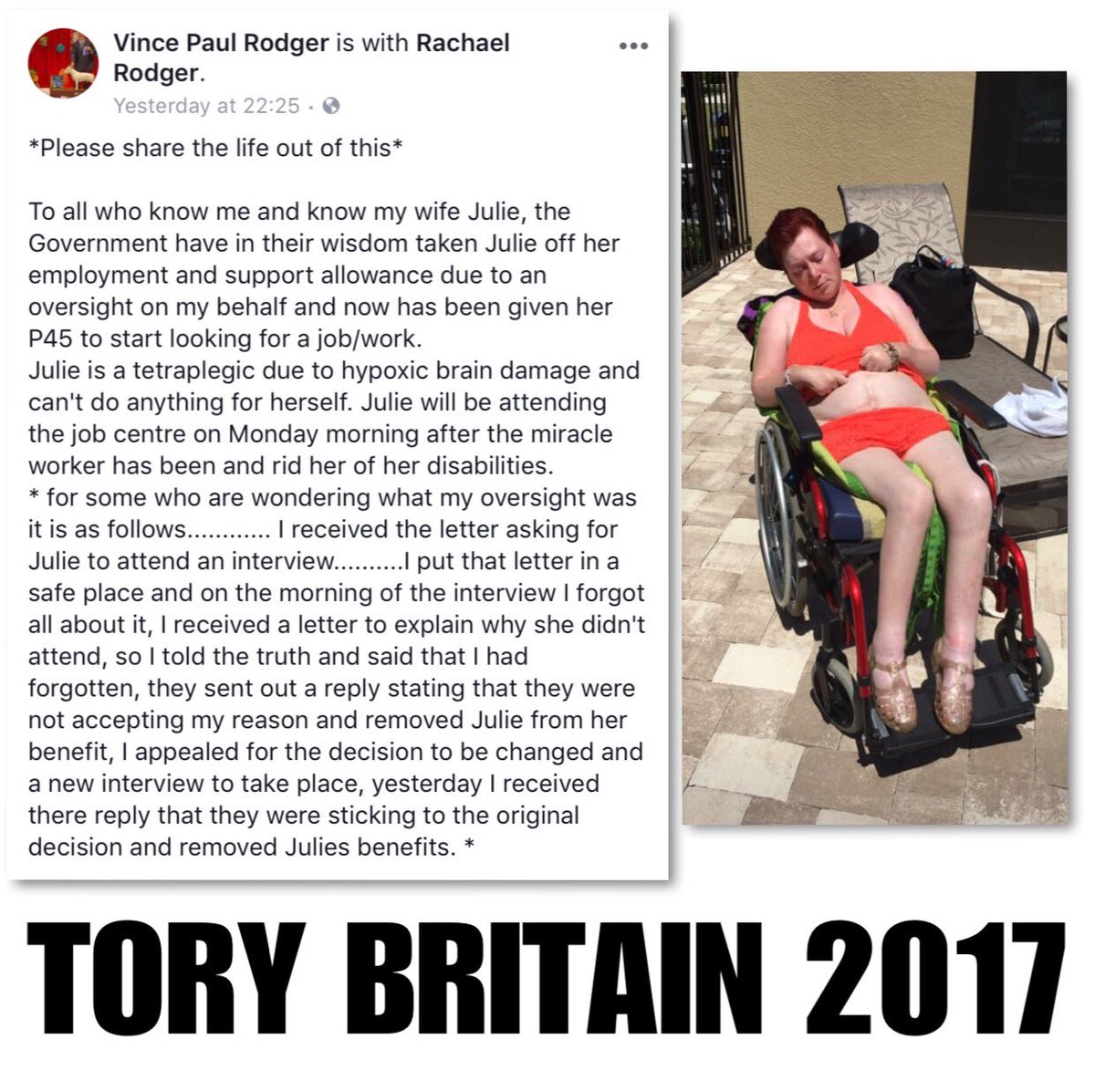 The thing is, if you follow the British news, you know this is what Tory policies are designed to do: Shove the most vulnerable people off any support. Examples are legion, and for every case that makes the media, one knows there are many, many more.
This is cruelty by design. The Tories tripled the debt largely because of tax cuts, austerity, and bail outs for rich people, and then they tried to make some of it up on the backside by hurting the most vulnerable people; people who were not responsible for the financial crisis and have not benefited from the tax cuts.
This is what Obama is okay with–this is what he prefers to a social democrat like Corbyn.
Obama's just an evil man. He has always been an evil man. He has spent his time since office hobknobbing with billionaires and getting rich off the very people he helped bail out as president, and whom he refused to prosecute despite their clear crimes.
He's just a bad man. He was never left-wing in any sense, and he'd rather see vast amounts of cruelty than see any sort of social democrat anywhere near power.
Again, for the dull, this does not mean he is not better than, John McCain, say. It just means that he's still evil, still a bad man, still someone whose hatred of the left is so strong he'd rather see cripples losing their wheelchairs than have the left win.
The enemy.
For America, or the world, to improve we need to start electing people who are, on balance, good, not evil.
We simply cannot expect to routinely elect evil people and have good results come from it.
---
The results of the work I do, like this article, are free, but food isn't, so if you value my work, please DONATE or SUBSCRIBE.