Why Many People Love Trump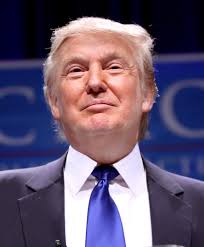 Okay, you should read this entire article. I'm going to excerpt one piece but it's all there: the trade, jobs, the rhetorical style, the anti-war message, and so on. Most of you have never heard this, and I haven't been able to get through to a lot of people.
Or consider the particularly emotional exchange Trump had with a father from upstate New York. "I lost my son two years ago to a heroin overdose," says the father from off camera.

"Well, you know they have a tremendous problem in New Hampshire with the heroin," says Trump. "Unbelievable. It's always the first question I get, and they have a problem all over. And it comes through the border. We're going to build a wall. "

Then, instead of moralizing anger, playing against type, come compassion and respect: "In all fairness to your son, it's a tough thing. Some very, very strong people have not been able to get off it. So we have to work with people to get off it."

At this point it becomes clear that the bereaved father has started to cry. Trump shifts to tough-guy reassuring. "You just relax, OK? Yeah, it's a tough deal. Come on. It's a tough deal." And, in a veiled reference to Trump's own brother's death from alcoholism, "I know what you went through." Then, to the audience while pointing at the father: "He's a great father, I can see it. And your son is proud of you. Your son is proud of you. It's tough stuff, it's tough stuff, and it could be stopped."
Trump did not campaign the way you thought he did. Or, not entirely. You only got half the picture, which is why so many people can only screech: "Racism!"
---
If you enjoyed this article, and want me to write more, please DONATE or SUBSCRIBE.