What Confucius Teaches Those Who Want a Better World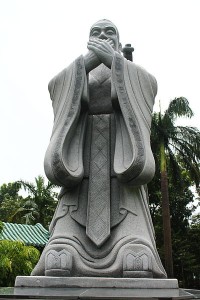 In the pantheon of political philosophers, by influence, Confucius is of the first rank: the most important political philosopher in China, arguably the most important chunk of the world for the majority of the last 2,500 years.  After a time of persecution by Mao and the Communist party, his influence rises again, as the East seeks a different model than the West to sanctify non-democratic rule.
It is easy to look at Confucius, as at many other ancient philosophers and judge them entirely on our own beliefs.  With Confucius, this means we look at how Confucius ignored all relations with women except marriage and motherhood, and how his indifference was used to justify stripping women of rights in most heavily Confucian societies.  This is, to be sure, a real flaw: a philosophy which reduces the rights of half the human population can never be truly just or kind.
But it is also important to look at Confucius in the context of the times.  The Confucian relationships were all hierarchical relationships: father to son; husband to wife; older brother to younger brother; lord to subject, and so on, but they were also all based on kindness and care: the lower ranked individual owed the senior ranked individual obedience, but the senior ranked owed the lower ranked one kindness and care.
If a king failed in this duty to care for those who owed him loyalty, Confucius argued that he was not, actually, a King.  Rectification of terms meant that you couldn't call someone who ruled without care a king: such a man was a tyrant, and your duty to him was not loyalty, it was rebellion.  If a son did not act as a son should to his father, Confucius believed the fault lay as much, or more, with the father: after all, the father had raised the son, who else could have failed to inculcate loyalty, probably through lack of care?
You can see why Confucius hardly ever held office during his own lifetime: why the Princes of his age did not wish to employ him.  He died convinced his way, his Dao, had failed.  Mencius, the next great Confucian philosopher was even less successful in his lifetime.
Confucius also believed, deeply, in ritual and music as means of ethical and moral improvement.  For Confucius proper behavior came from proper emotion; proper sentiment.  You spent three years in mourning for your parents because you were genuinely sad and bereft.  Why eat good food, or wear fine clothes, when such things were as ashes to you in your grief?
Rituals work.  They are relatively reliable ways of inculcating emotion, and attaching emotion to symbols.  Once you have spent enough time going through Christian rituals, Christ on the Cross has powerful meaning to you, meaning you can bring up any time, just by thinking on the cross.  If you are determined enough, and meditate enough, you can manifest the marks of the crucifixion, so powerful can the symbol become.
Spend enough time in particular rituals, and they change who you are.
We moderns often think of rituals as empty, meaningless: but done right, with belief and intensity, ideally at first with other humans, with synchronized movements and they are extraordinarily powerful.  Modern rituals such as our great concerts are still very powerful.  Rituals involving the nation state have also evoked great belief: many, many men have died for their nation believing it was a good thing to do, along with the nonbelievers.
Any system must be run by men and women.  Some will have more power, others less, all are participants.  When they come not to believe in the system, when they no longer believe in free speech, or privacy, or equality, or justice, the society will cease to display those categories.
This isn't just about institutions: it is about people, and what sort of people are produced and selected and promoted by a society.
Confucius wanted harmony, and he wanted benevolence. He saw a hierarchical state as natural and necessary, and asked "how do we make this state good for everyone?"  And he did mean everyone.  When one of his students was involved in raising taxes on peasants who could not afford it, he was so distressed he cast him out and metaphorically told his other students to beat him.
So… obedience to those above, benevolence to those below, and if the benevolence fails: revolt.  If the obedience fails, en-masse, however, Confucius did not blame those below, he blamed those above: they must not have the ethical characters which deserves obedience.
Ritual and music (which also inculcates emotion, as we all know) was meant to create the people who could create this society.
Did it work on those occasions it was put into practice?
In some places, for some times, I think so: or better than the alternatives, like Legalism, which was incredibly harsh.  All things created by mortals fail, and even those that are successful are successful in cycles.  But Confucius had the horns of the dilemma firmly in his hands, and he gave answers which answered important questions.  Billions through history felt his answers were good ones.  Often, as with all political philosophers, his ideas were twisted to tyranny, but yet, he had asked correct questions, and he had given answers meant to actually answer them.
What sort of society is best for those who live in it?
How do we create the people who can make that society work?
What do we do when those who rise to power are not suited for it and how do we know when they are not suited to it?
Confucius died, bitter, but his questions and answers helped create the greatest most prosperous civilization for most of the last 2,500 years.  And while we might not accept his answers exactly as he gave them, they still have merit, and his questions still stand as a guide to those who would try to create the ideas which will create a better society for those who live in it.
Oh, and all philosophies age. It is the duty of the philosophers who come after a great philosopher to fix his or her errors.  Confucius erred in his treatment of women; it is for modern Confucians to correct the master so their philosophy may continue to promote benevolence.
---
If you enjoyed this article, and want me to write more, please DONATE or SUBSCRIBE.