Trump on Health Insurance, NATO, and the EU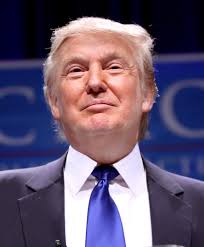 Well, Trump keeps saying stuff, and people keep freaking out. He said a number of interesting things this weekend, let's run through them.
The U.K. is smart to leave the bloc because the EU "is basically a means to an end for Germany."
Yeah. Not so clear. BUT, there's an element of truth here. Among the major European powers, Germany is the one who has benefited most from the EU, or rather the Euro (which England was not a part of). The Euro is not worth nearly as much as a German mark would be, making German exports far more affordable than they would be otherwise. Meanwhile, Germany has pushed hard for austerity policies, on the crazed moral point that countries which don't run trade surpluses shouldn't have good things. At this point, France, Italy, Spain, Portugal, and Greece would clearly all be better off outside the Euro–at the very least. Germany has acted monstrously over the past eight years, no more so than to Greece, but not only to them. About the only thing I agree with Merkel about was when she opened up Germany to immigrants (something Trump slams).
Trump said Bayerische Motoren Werke AG would face a 35 percent import duty for foreign-built BMW cars sold in the U.S. BMW should scrap plans to open a new plant in Mexico and build the factory in the U.S. instead, he was quoted as saying. BMW plans to start building 3 Series sedans at San Luis Potosí in 2019.
I have exactly zero problem with this. This is how much of the world economy was run prior to the rise of neoliberalism. If you wanted access to a market, you were expected to locate much of the production in the country, with foreign content rules in place. Often it was expected that, say, 60 percent of work and materials would be produced in the country to which you were selling.
NATO, he said, "has problems." "It's obsolete, first because it was designed many, many years ago," Trump was quoted as saying about the trans-Atlantic military alliance. "Secondly, countries aren't paying what they should" and NATO "didn't deal with terrorism."
I have believed, since the fall of the USSR and the release of the Warsaw Pact countries, that NATO should be dissolved. I have not changed my mind because Trump is now saying it. Let us be clear, the EU's population is 508 million. When the UK leaves, it will be 447 million.
Russia's population is 143 million.
The EU minus Britain has a GDP of 18.1 trillion (purchasing power parity), Russia has an economy of 3.5 trillion (ppp). Germany alone has a GDP (ppp) of four trillion.
Yeah, Europe can afford to pay for its own defense. It has a larger economy and a larger population than Russia. It isn't even close. If Europe refuses to defend itself, I don't see how that's America's problem, the only thing Europe really needs from America is a nuclear shield, and that need could easily be fulfilled another way (and France has nukes).
NATO is the main reason that Russia is a problem. The Russians were promised that NATO wouldn't expand into the Warsaw Pact countries. That promise was broken, and when it became possible that the Ukraine would join NATO, Russia acted, because Russian generals believe that it is impossible to defend Moscow if troops start from the Ukraine.
On Russia, he suggested he might use economic sanctions imposed for Vladimir Putin's encroachment on Ukraine as leverage in nuclear-arms reduction talks
This isn't a bad thing. Good relations with the other massively nuclear armed state in the world are good, and America has zero interests of importance in the Ukraine. As for Europe, see above: They can defend themselves, and if they can't be bothered, so be it.
Now, to be frank, I don't believe it will be good insurance (I'll be happy to be wrong), and I note that it is not healthcare for all, but insurance for all–insurance many may not be able to use. I also doubt it will be universal. But then Obamacare was insurance that many people can't afford to use, so that alone doesn't make it a worse plan than Obamacare was.
Still, the actual promise has potential to be better than Obamacare, because Obamacare was not actually insurance for everyone: Nine percent of Americas still lack insurance (this is down from about 14 percent before Obamacare).
If it's better than Obamacare I will laugh like a hyena.
My read on Trump's future is as follows: He either gets two terms, or he gets impeached in his first term. Most GOP Congress members would rather have Pence than Trump. BUT Trump's followers are very faithful and as long as he remains popular, Congress would not dare to impeach him. They have to live in districts where he is popular, and not only their seats, but much more would be at risk if they were labelled traitors by Trump. Bear in mind that there's no way Trump goes peacefully, or doesn't call them out, he would fight to the end.
So Trump has to deliver to his base, or he's done. Also, Trump wants to be adored. It is his deepest psychological need, as best I can see.
The risks with Trump remain high (especially in regards to his China policy); his tax cuts are deranged, the supreme court is going to be a disaster, but that doesn't mean that his administration may not be successful enough for the people it needs to deliver for to get him his second term.
More than that, Trump is saying the things that no one else in power would say. I mean, he called out pharma as protected and said that's over. He's mostly right about NATO. He said in this interview that Iraq was the biggest foreign policy disaster in American history (that's overstating it, but it's the biggest since Vietnam).
It's going to be an interesting few years. Strap in.
---
The results of the work I do, like this article, are free, but food isn't, so if you value my work, please DONATE or SUBSCRIBE.