By Criticizing This, Liberals Look Like Fools
Because this is 100 percent true.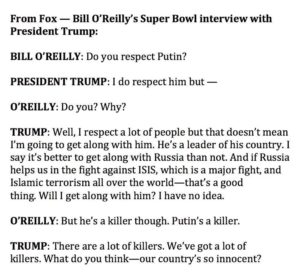 One of the great problems of the campaign and into the Trump administration is liberals and the media accusing Trump of lying. He lies a lot, yes, but he tells truths that no one else is willing to say, and he has, so far, kept his high profile promises.
Normal politicians tell the truth about the things Trump lies about, but those things are less important than the truths Trump tells and the promises he keeps that normal politicians break (for example, Obama saying he'd re-negotiate NAFTA).
For the fools, this doesn't mean that Trump will keep his most important promise: the ur-promise of prosperity for the forgotten Americans. Of course, Obama didn't keep his ur-promise either, which was of a fundamental change in how DC did business and how the country was run. Rather the contrary, Obama institutionalized George Bush's abuses, leaving those powers in place for use by Trump.
But Trump won because he told truths other people wouldn't tell. As for the "approval ratings," they are largely meaningless because about 90 percent of Republicans still back Trump. The people who are unhappy with Trump (indeed, who hate him), are people he didn't win and doesn't need right now. Of course they hate him, the Democrats spent the the entire election telling them that Trump was Hitler reborn.
When the "decent" people like Obama, Clinton, and Bush (who liberals are now saying was actually pretty good) don't do the right thing, and lie about what matters most, they open an opportunity for demagogues. Now they have one and they squeal, but he was earned by their actions and words.
The ban of Muslims from seven countries, currently stayed, is something I think was a bad idea and which has hurt people. However, it was not more evil, say, than what the US did to Libya under Obama, which occasioned far less outcry. Not by any reasonable standard: a lot less people are dying because of it, or getting raped because of it, or losing their homes and livelihood because of it. Almost certainly, Trump will do truly horrible things yet, but this wasn't truly horrible. What it was was a strike at something liberals care about greatly, an emotive issue for them: The right for some people to move freely between countries. (Notice no similar outcry for the 2.4+ million deportations by Obama.)
All of this makes liberals look, to people who supported Trump, like raving hypocritical hysterics, crying about flesh wounds when they didn't care about broken bones when Obama was in charge.
And so it goes. Trump's a bad man, he's done and will do bad things, but the reaction so far has been vastly out of scale to anything he's actually done.
And yeah, the US isn't exactly some bastion of purity and non-violence. Strange that the President who said that had to be Trump, because we all know it is true.
A little less pearl-clutching, please.
---
The results of the work I do, like this article, are free, but food isn't, so if you value my work, please DONATE or SUBSCRIBE.