Trump Couldn't Buy Coverage Like This
All the semi-scandals don't add up to one cover like this.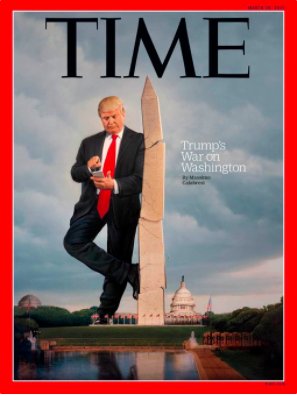 As for Trump's program, I am so far largely unimpressed, not as a matter of ideological opposition, but of pragmatics. His health care plan is bad, and will hurt people who voted for him in ways they will notice: increased cost, less health care, and more suffering and death. It's not the sort of chintzing which can be waved off.
So far he has no solid stimulus proposal (and such as the one he had was, it wasn't very good). He  hasn't acted on free trade, beyond cancelling the TPP, which wasn't in effect anyway. His proposed cuts to the non-military budget will have a negative trickle down and will not be good for the economy. Bannon's okay with that, he has an ideological desire to destroy the post-WWII state, but Trump needs his people to feel good.
The one perhaps clever thing Trump has done is his asked for a 54 billion dollar increase to the military budget. Jobs created this way will tend to go to Trump supporters and communities. If you're dedicated to slashing the rest of the bureaucracy, this is an excellent offset.
Well, it could be, depending on how many jobs it produces. The dollars/job correlation on defense funding is pretty lousy, and if I were Trump/Bannon I'd be leaning hard on the Pentagon to spend this in ways which will actually produce jobs, whether directly in the military, outsourced, or manufacturing.
Much remains undetermined, but so far Trump's made only one potentially smart economic move. Let's wait and see, within a couple months we should have a fuller picture and thus a better idea of his likely fate.
---
The results of the work I do, like this article, are free, but food isn't, so if you value my work, please DONATE or SUBSCRIBE.