Book Review: Confucius and the Chinese Way, by H. G. Creel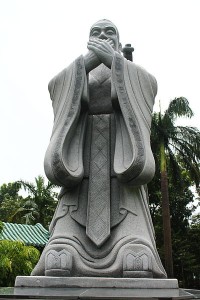 Among ideologies and religions, one of the longest lasting and most influential was Confucianism. Confucianism was the most important ideology of the Chinese for about two thousand years, and China was either the first or second most advanced region of the world for most of that time (India being the other contender.)
The review is of an older book, published in 1949, before Confucian influence was so heavily hit by the rise of Communism.
Confucianism, by that time, was seen as an essentially reactionary philosophy: Everyone should know their place and stay in it, worship their ancestors, obey their parents, and so on, but Creel argues, convincingly, I believe, that Confucianism was a radical project at the start.
Confucius lived in a period of warring states. Huge armies were raised, battles were frequent, taxation and levies were harsh, and maiming and torture were common. Ordinary people were much afflicted, as noble families fought it out to see who would unify China.
Confucius believed that the welfare of the common people should be the goal of ruling, and he set out to do something about it. That something was to create a philosophy, and a teaching, which produced officers for the lords, officers who had been trained to believe the common weal was the goal of rulership.
Confucius astutely noticed that there was no formalized training for officials and created it. He wasn't the only one to so notice: The legalists and the Mohists did as well, but in the end, it was his system that worked.
Confucius decided to build off human nature as he observed it: He noted that parents tend to love their children and care for them, and that children love their parents. He tried to take that love and transfer it to officials and rulers. Rulers were to treat those below them as beloved children, and those below were to obey their rulers as parents.
Confucius wasn't a fool, of course. He understand that this could be abused, so he noted that if a ruler didn't act like a loving parent, with beneficience to those he ruled, then he wasn't actually a ruler, but a tyrant, and duty was to oppose him.
A ruler should pick the best officials, and leave the governing to them, with an eye to flourishing of all.
Confucians should act out of benevolence no matter the circumstances, or even the results. Confucius recognized that one could try to do good, and though "Heaven" could frustrate one, the merit lay in trying. Thus, a man who tried could feel secure that he had done his duty, whether he succeeded, or even was ever appointed at all. Willingness and ability to serve was enough.
Interestingly, Confucianism was most successful in two periods: before the unification of China and for something over a hundred years afterwards. The Confucians were quite popular with the people, and princes wanted their support. When the first Emperor of China won, he did it primarily through Legalist doctrines (individuals exist only to serve the state, and the Emperor is the absolute ruler), but his dynasty was soon overthrown with the aid of Confucians, and the first few Emperors were good Confucians, until an ambitious and smart one came along who decided to gain control over the Confucians.
How he did so is a lesson which should resonate though history: He formalized teaching of Confucianism with appointed masters and teachers with stipends and so on. He chose them, he controlled their finances. Confucianism seemed to benefit from this, but, of course, it put Confucians and Confucianism largely under Imperial control. From that point on, Confucianism (very generally speaking, we're talking about two millenia of history) was never again so beneficial for the people, and much more of a prop for the ruling class.
The Confucian sages and scholars had been, to use the modern word, co-opted.
A few summers ago, I read a large number of books on Confucianism, and for my purposes this was the best, because what interested me most was the life cycle of the ideology: How it rose, how it gained power, and how it fell.
Confucius, famously, died thinking he was a failure (as Jesus may have, and many other reformers). Only after his death did his teachings become influential, and the day they truly took power, it seems to me, is when the days of their full benefit became numbered.
This is normal for ideologies, and Confucianism got a far, far longer run, than most at being beneficial.
Seeing this cycle play out millennia ago is a nice antidote to studying more recent rises and falls; such as the relating to the end of New Deal liberalism with Reagan/Thatcher, or the end of the world system put in place after Napoleon.
It is also, in some ways, a master class in the details of ideology creation: Confucius created a system which had innate rewards for those individuals who followed it, which was beneficial to the governments which adopted it, and which was able to create a large group of people who wanted it to continue, while ensuring a wide support base in the population.
All of this makes for fascinating reading, and I recommend this book highly, though it's old and may be hard to find a copy.
---
The results of the work I do, like this article, are free, but food isn't, so if you value my work, please DONATE or SUBSCRIBE.