Trump's Logic Is Not Crazy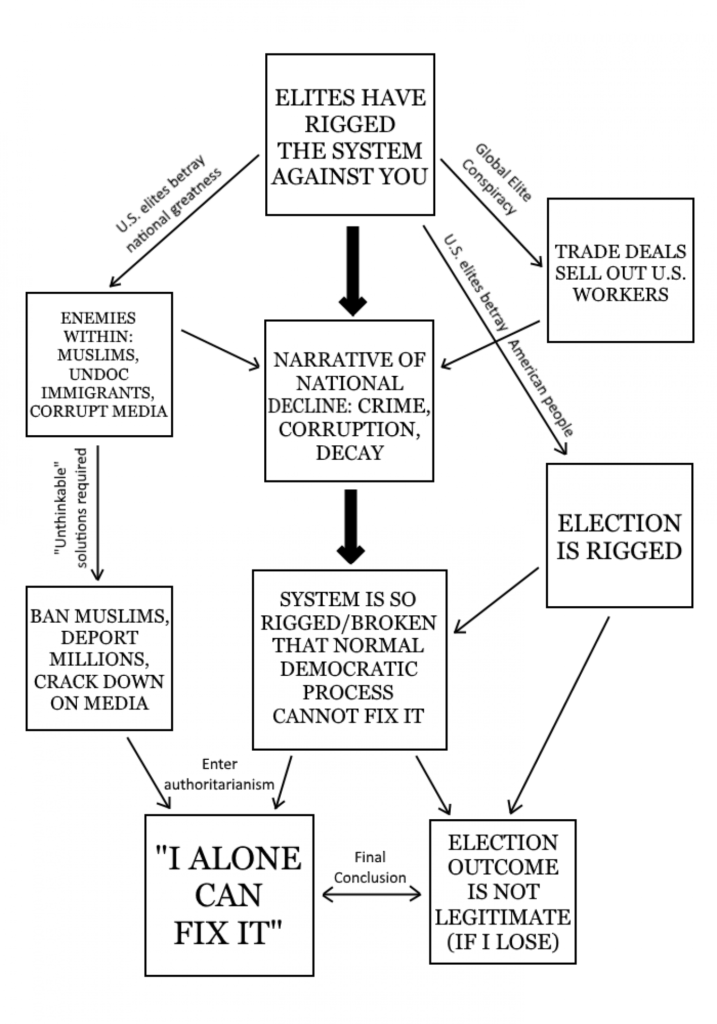 Okay, so this chart has been going around (though I can't find the original source). The problem is that people have been acting as if this chart is crazy.
Three parts are just fact:
Elites have rigged the system against you.
The US is in national decline (though violent crime is down).
The idea that "elections are rigged" is also true. It is more true for Republicans vs. Democrats, but it is also true that the DNC rigged the primaries against Bernie Sanders and for Clinton.
I do not believe that the system cannot be fixed democratically, but the point is at least arguable. It is also noticeable that Trump is actually trying to fix it democratically.
The problem with this chart is not that it is bollocks and lies, rather, it is that much of it is true, and that only Trump is willing to say the truth. If everyone is pretending everything is fine, and only the "crazy guy" is telling the truth, a lot of people will go with the "crazy guy."
As for only Trump being able to fix it, well, he's the guy running, who can win, who acknowledges these problems, isn't he?
The only bits with which I don't agree, other than getting Trump to "fix it," are the "crack down on Muslims, deport millions." BUT here's the zinger: The US has already deported millions and cracked down on Muslims. Mosques and prominent and non-prominent Muslims are under constant surveillance, and millions of Hispanics were, in fact deported by both Bush and Obama. (Obama deported more, including per year.)
As for the wall—it's just an extension of what has already been done in places. There are already hundreds of miles of wall.
This logic isn't crazy at all, it's more true than Clinton's meta-message, and it doesn't suggest doing anything that doesn't make sense (after a fashion) or isn't already being done, even if I don't agree with all of it.
People who think this logic is damning need to get their heads out of their asses.
---
If you enjoyed this article, and want me to write more, please DONATE or SUBSCRIBE.