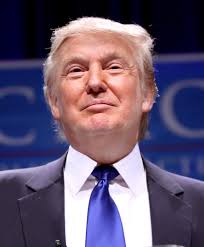 Trump is going to rule as emperor, not president.
By this I do not mean that he's going to overthrow democracy and become president for life; I regard that as very unlikely.
What I mean is that Trump isn't interested most of what's involved in running the Presidency. Even when he has definite ideas, he generally isn't interested in the details.
So personnel will matter even more than it does in normal administrations. Who has Trump's ear, and when, will matter a great deal. Trump is very persuadable. Issues may well go back and forth for quite a while until someone gets Trump to make a firm decision.
There will be fiefs. Given that Pence was given the transition, pushing aside Christie, he appears to be on the fast track to be the most important person after Trump, and in day-to-day operations probably more important. He may well be even more powerful than Cheney was in the Bush administration.
Trump has multiple factions in his government. Thiel is a libertarian and dubious about women, but he's not a racist. Bannon is a racist. Pence's main concern is crushing women into the dirt, and Trump will allow some of that, but his wife and daughter have a lot of influence on him and they'll try to mitigate that. Remember that Trump has praised Planned Parenthood in the past.
There are issues Trump has made his own, and there are issues about which he doesn't care too much. The wall will get built, even if parts of it are a fence. At least one trade deal will get rewritten (Canada has already said they're willing to reopen NAFTA). Immigrants will be expelled. (If you're worried about the two to three million, you should be. Just remember, Obama expelled 2.4 million. He just did it relatively quietly.) ISIS will be bombed to smithereens. Nice will be made with Russia–to some extent.
But beyond that, much is in the air, and much will depend on WHO gets Trump's ear. Even within settled policy, details matter, and Trump is not going to handle the details (Bill Clinton was infamous for actually being on top of details. Hillary would have been the same way, it's not a given the President hand-waves them.) Thus, who is given the job of executing policy will matter a great deal.
This is going to be a courtier's administration. It is going to be an administration of fiefs and fierce internal infighting, both below the Emperor's notice and for his notice. Who wins those fights will matter, a lot.
So far, outside his family, we have Pence managing the transition (woman-hating, Job #1). We have Bannon as his chief strategist (white supremacy and ministry of propaganda Job #'s 1 and 2), and we have Priebus as his chief of staff (career Republican apparatchnik).
Keep an eye on the people, and the appointments, BUT don't count out the family. What they think (and by all accounts Ivanka is the toughest of the children), will matter a lot. Melania might have outsize influence, for all we know: Nancy Reagan wound up more important than Reagan himself when Reagan's Alzheimer's took its toll, and was vastly influential even before that.
Trump will make the big announcements. He'll insist on cutting the deals (at least the final cut) with other leaders. He'll have a few things he wants done, but beyond that, it'll be those around him who matter.
---
If you enjoyed this article, and want me to write more, please DONATE or SUBSCRIBE.