Review of Rest, by Alex Soojung-Kim Pang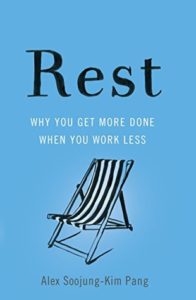 For many years, I've noticed something about the work schedules of writers. Most work about four hours a day, virtually none work six or more.
Rest is a part of that genre of books which consist mostly of anecdotes and descriptions of scientific studies. It's not a genre I'm usually fond of: tedious. But Rest, in my opinion, is an important book.
Too many people today think that working more equals working better. It's not that that's never the case; in many jobs and disciplines, the simplest and best way to increase what you get done is to just add more hours.
But that prescription, startlingly popular among many, has always struck me as dubious when it comes to anything creative. Speaking personally, even when perfectly healthy and happy, after more than about four hours of concentrated creative work my brain turns to mush. Work done after that time is not only non-productive, it's likely to be so filled with mistakes that it's counterproductive.
If I want to work more than that, the best strategy is to work about three hours and then rest. Best is to take a full sleep cycle nap of about 90 minutes to two hours. Then I can do another two to three hours.
And that's it.
Further, the best strategy when working on a specific project which requires me to come up with ideas is to completely splurge, learning everything I can about the subject, over however long that takes (in four to five hour daily segments), and then to do something else.
The "something else," and ideally that involves not work, but rest or play, is necessary, and it is during that time at some point, perhaps in the shower, after a nap, or during a long walk, that the key ideas will occur. They rarely occur during the study period, unless they are fairly obvious.
This is the prescription given by Graham Wallas in The Art of Thought and far more succinctly by ad-man James Webb Young in A Technique For Producing Ideas and it is at the core of Rest:
Prepare by immersing yourself.
Try to solve the problem.
Give up and rest.
Eureka.
Rest starts by looking at how Darwin lived his life. Succinctly, he didn't work that much, four and a half hours a day, in 90 minute periods, with breaks in between.
The book is replete with examples similar to Darwin, but what I found most stunning was a study on scientific production in the 1950s which plotted papers produced vs. hours in the office:
The data revealed an M-shaped curve. The curve rose steeply at first and peaked at between ten to twenty hours per week. The curve then turned downward. Scientists who spent twenty-five hours in the workplace were no more productive than those who spent five. Scientists working thirty-five hours a week were half as productive as their twenty-hours-a-week colleagues. From there, the curve rose again, but more modestly.

Researchers who buckled down and spent fifty hours per week in the lab were able to pull themselves out of the thirty-five-hour valley: They became as productive as colleagues who spent five hours a week in the lab. Van Zelst and Kerr speculated that this fifty-hour bump was concentrated in "physical research which requires continuous use of bulky equipment," and that most of those ten-hour days were spent tending machines and occasionally taking measurements. After that, it was all downhill: The sixty-plus-hour-a-week researchers were the least productive of all.
When you add back in work at home, and not just office, it appears the most productive scientists were working about 25 to 38 hours a week.
Not 70.
The book also analyzes the famous violin study, of conservatory students who would go onto be world class violinists and shows the same thing: The best students practiced twice a day, and took a rest between. They did other "work," but considered practice and rest the most important part of their day.
This isn't a short book, and there's a ton of detail on sleep, naps, exercise, play, walking, and so on, but the bottom line is simple enough: Too much work and no play (or rest) makes Dick a dull boy with few original ideas. This is true for novelists, scientists, artists, and so on.
The real work of creativity is done by the subconscious. You must put in the work–there is no skipping it. You must read the books, do the practice, try to figure out the problem, but it is not the conscious mind which makes the breakthroughs: You do the work until you just don't want to think about it any more, both daily and on a longer time schedule, then you take a break, and it shakes out or it doesn't.
This book is an important antidote to a trend in our society. If you're working 80 hours a week? No, you're not going to be peak creative. If you, or your child, spends all their time in school, on homework, and then on adult supervised extra-curricular activities, again, that's bad for creativity (this kind of busy schedule is the profile of students who go to the Ivy League).
Work hard, have fun playing, and rest.
---
The results of the work I do, like this article, are free, but food isn't, so if you value my work, please DONATE or SUBSCRIBE.