Review, Impro, by Keith Johnstone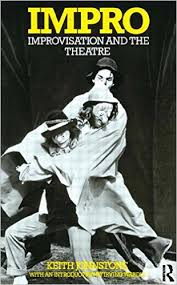 The subtitle is "Improvisation and the Theatre," but this is a book for far more than people involved in theatre, and one of the most profound I have read.
Johnstone started as a teacher, and specialized in "problem children," whom he found to be the most imaginative and bright students, rather than those students who are simply compliant with teacher.
I have two favorite anecdotes from this book. The first is that when teaching drama students, Johnstone would sit on the floor, while the students were in chairs. He would tell them that if they didn't achieve the abilities the class was teaching it was his fault, not theirs, because he was the teacher.
By the end of his introductory spiel, they would all be off the chairs, sitting on the floor with him, because they didn't want to be "over" someone treating them as he was.
Johnstone would try and make students feel completely safe, and he found that as people learned not to censor themselves three layers would emerge.
The first was sexual: Often wildly, inappropriately sexual.
The second was a deep fear of God (remember he was teaching more than 50 years ago now) and of Hell, combined with anger and hatred.
The third and final layer was a deep tenderness.
(This is fairly similar to my experiences with meditation. Human nature, stripped of fear and desperate desire, appears to be essentially love. Most people never strip off enough to experience more than brief flashes of this, however.)
Johnstone has a long disquisition on status which is fascinating and useful far beyond the theatre. His analysis that higher status people own more space than lower status people, and that servants own no space, is brilliant.  His breaking down of conversational domination opened up whole vistas of understanding how people talk in real life.
But this is my favourite quote from the book:
I once had a close rapport with a teenager who seemed 'mad' when she was with other people, but relatively normal when she was with me. I treated her rather as I would a Mask – that is to say, I was gentle, and I didn't try to impose my reality on her. One thing that amazed me was her perceptiveness about other people – it was as if she was a body language expert. She described things about them which she read from their movement and postures that I later found to be true, although this was at the beginning of summer school and none of us had ever met before.

I'm remembering her now because of an interaction she had with a very gentle, motherly schoolteacher. I had to leave for a few minutes so I gave the teenager my watch and said she could use it to see I was away only a very short time, and that the schoolteacher would look after her. We were in a beautiful garden (where the teenager had just seen God) and the teacher picked a flower and said: 'Look at the pretty flower, Betty.'

Betty, filled with spiritual radiance, said, 'All the flowers are beautiful.'

'Ah,' said the teacher, blocking her, 'but this flower is especially beautiful.'

Betty rolled on the ground screaming, and it took a while to calm her. No one seemed to notice that she was screaming 'Can't you see? Can't you see!"

In the gentlest possible way, this teacher had been very violent. She was insisting on categorizing, and on selecting. Actually it was crazy to insist that one flower is especially beautiful in a whole garden of flowers, but the teacher is allowed to do this, and is not perceived by sane people as violent. Grown-ups are expected to distort the perceptions of the child in this way. Since then I've noticed such behaviour constantly, but it took the mad girl to open my eyes to it.
Reality isn't, mostly. That's not  to say there aren't real things, and objects and so on, most of it is filtered so heavily that we never see the world minus huge amounts of connotation and framing we picked up from other people and pass on, too often rather like a virus. A great deal of what passes for us as wrong, escalating to mad, is really just people who refuse to live in our particular reality. (Other madness is, of course, far more serious.)
There's a vast amount of information here, of course, on how to do improvisational theatre and my theatre friends tell me it's great, even foundational. The most important points are to always accept prompts (don't shut down what your impro mate is doing, but run with it) and to not try to be too clever, because too clever doesn't flow from whatever was given to you and the audience won't buy it or get it.
But this book is one I keep coming back to because so much of it is about what it means to be human, how to retain our imagination, and how not to drown in social conditioning. It's a fundamental book, one which deals with the deepest issues and illuminates them. Recommended for everyone.
---
The results of the work I do, like this article, are free, but food isn't, so if you value my work, please DONATE or SUBSCRIBE.